In Howland, boardwalk puts nature's beauty in perspective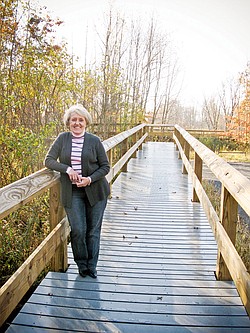 Photo
Residents find a new way to admire the seasons.
HOWLAND — A new township attraction is giving many people the chance to see fall in a new light.
The 6-month-old Mosquito Creek Boardwalk is a hit with nature lovers and exercise enthusiasts.
Still, some Howland residents said that while attention has grown, more people should be enjoying the boardwalk.
"People don't recognize what a gem there is in the middle of this community," said township Administrator Darlene St. George, who herself spends leisure time there.
The boardwalk, stretching 729 feet south of Howland Park, was constructed amid more than 100 acres of wetlands purchased in 2004. With a state matching grant picked up by the township, the project was completed in May 2008 at a cost of around $350,000.
"There was skepticism at first about what we were doing and why," St. George said of the plans to construct the boardwalk in the middle of preserved land. "Now they no longer think of it as swampland. People appreciate its beauty."
Residents from in and outside of the township now make the short trip regularly, said Ron Heames, a retired Howland man.
"It's amazing the number of people who come to the park who now extend their walk to the boardwalk," he said.
Heames, like others interested in the wetlands, can list a number of animals that can be seen during regular visits: "deer and turkey, beavers, muskrats, snakes, weasels, river otter" and more.
That admiration of wildlife is what St. George and the township trustees had in mind when they decided on the project four years ago.
"This is a place that fosters an appreciation for nature," St. George said.
Carole Babyak is one of a group coming to the boardwalk to see the birds. For her it's part leisure and part project.
Babyak is helping to compile information for the Ohio Breeding Bird Atlas, a record of birds nesting in areas of the state. She's also a member of the Mahoning Valley Audubon Society, and will occasionally give a "bird walk" on the boardwalk.
She said the raised path is perfect for observation. It allows her and others to tread on marshland otherwise difficult — or impossible — for walking.
"It's nice to be up high," she said. "I think it's a good way to introduce people to nature because they're walking on a flat surface [and] don't have to get muddy or wet."
The residents say they'll keep returning to the boardwalk, even in the winter months.
Already, fallen foliage has let in sunlight to the densely forested area, allowing visitors a view of new depth in the surround acres.
Standing on the walkway nearly 9 feet above the ground, guests are treated to the sights and sounds of uninterrupted nature beneath them.
"When you're up there, you can stand and watch the animals below and they're not conscious of it," Heames said.
Mark Zuppo, the township's planning and zoning director, said the boardwalk was created to make the most of the view and experience, while it was designed to appear less formal.
It turns at wide angles and stands at varying heights.
"The idea was for it to meander and give different perspectives," Zuppo said.
Residents such as Heames get the picture.
"You just can't walk it once and expect to see everything," he said of the enveloping nature. "You have to go down there and spend some time to learn where the action is."
The township owns, in total, more than 400 acres of protected land, and officials are looking to expand the boardwalk by 2,850 feet in the coming years.