City kids treated to party that's s-s-safe
Halloween on the West Side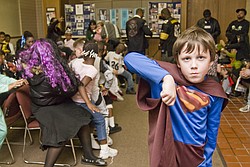 Gallery
Photos by Daniel C. Britt.

Photo
Students at Harding Elementary School on Youngstown's North Side, including these children of brothers Gary and Marvin Walker, dressed in costume for Halloween Friday. Teachers joined in the fun and led the whole school on a parade up Fifth Avenue Friday afternoon.
Real blood on the Jason mask? Gulp.
YOUNGSTOWN — Ghostly cackles, moans and shrieks greeted all the Batmans, Power Rangers, witches, pirates and angels.
The unearthly music wafting through the old fire station on Mahoning Avenue (wasn't Elm Street, as in "Nightmare on," available?) was soon drowned out Friday night by screaming kids trying to win prizes. There almost wasn't time for the 13-and-under crowd to eat the bountiful harvest of candy, hot dogs, pizza and chips.
One tiny dinosaur, not too steady on his feet, brought his own refreshment — a milk-filled baby bottle. Randy Spencer's mom, Iris Salas, scooped up the 1-year-old when it appeared he might be toppled by a few energetic dancers.
"The Power Ranger's mine, too," Salas said, pointing to her namesake, Iris, who's almost 3. The doting mother didn't think her baby dinosaur would understand that Halloween means candy, but little Iris did.
The "Safe Party," hosted by police Detective Sgt. Delphine Baldwin Casey, aka Lady Vampire, gave children from all over the city a chance to dress up and have fun on Halloween. Casey's costume included monstrous teeth.
With her fake teeth in, it sounded like "Mmweem gomt tome getm McGmrumph rwedee."
Huh? Out came the teeth and then: "We've got to get McGruff ready."
McGruff the Crime Dog (Brook Gingher) passed out candy to the 100 or so kids who jammed the converted fire station. McGruff had to bend way over in order to see out the eyes in the huge dog head.
A gigantic bowl of assorted candies sat by the back door, for kids out trick-or treating in their West Side neighborhoods. Some who stopped by decided to stay when they heard the laughter.
The costumes included a black-lace angel, space girl with long purple hair, SpongeBob SquarePants, angel in lime green, pirate in burgundy velvet, giraffes, Superman and many more.
For 5-year-old Isaiah Graves, a dancin' machine, the dance contest for his age group was a snap. His mom, Jeanne George, described his black-and-white-striped outfit with scary green mask as "prison monster."
One yellow bumblebee in arms, Mykiah Jones, 1, had a look of wonder on her face as she stared at squealing kids bouncing around as they played musical chairs. She was held steady by Shanel Phillips, her grandmother.
Justin Clark, 5, a tough-looking ninja-warlord-warrior combo, with long braid, his own, won one of the musical chairs games. He shook his head and flashed an angelic smile when asked if anyone got roughed up.
A skeleton costume and blood-smeared Jason mask made 8-year-old Christian Anderson look menacing. With a straight face, he said: "I put my own blood on the mask."
You used red marker, right? "Uh, no," he said.
Tierney Woodruff, camera at the ready, had some second thoughts about the mummy costume she made for her 9-year-old daughter, Talia Lewis-Woodruff. The tightly wound ripped sheet didn't provide any, uh, bathroom possibilities.
"When I was done I said, 'Oops,' but Talia said, 'That's OK, I don't have to go, Mommy,'" Woodruff said with a grin.
The mummy was accompanied by her neighborhood friend, a slinky Cleopatra in gold — Delaurya Holden, 8.
One costume that appeared a cross between the wizardry of Harry Potter and the swashbuckling of Capt. Jack Sparrow turned out to be neither. A little girl, Radeja Lynch, 2 was under all the gear.
Her mom, Ruth Rogers, said the costume was a witch. What about the black pirate boots? "Oh, the boots — Timberland," she said.
Radeja's sister, 1-year-old Rakyia Lynch, had on a pale pink pig costume.
One of the Halloween song winners, 13-year-old Brion Koenig, borrowed part of his cop costume from his dad, Mike Koenig, a Poland Village police officer.
Brion — "that's the Irish/Italian spelling" — said he won $2. He joked that maybe the money would have to go for costume "rental."
Check out all their photos and others in the Vindy.com gallery.
meade@vindy.com