VIDEO: Governor Renews Call for Dann to Quit
Strickland responds to questions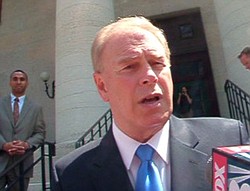 Video
Ohio Governor Ted Strickland responds to questions from reporters
Speaking to reporters in Columbus today, Gov. Ted Strickland renewed his call for Attorney General Marc Dann to step down.
Strickland said he made his decision after a full review of the investigation released Friday and cited "inconsistencies in his testimony" and a "failure to exercise proper over site and management" as key reasons for his decision to seek Dann's resignation.
"I would hope the attorney general would understand that his effectiveness as an attorney general has been so greatly diminished in my judgment at least that he cannot appropriate continue to fulfill the duties of that office so I would hope he would recognize that and choose to resign." Strickland said. "If he does not, I can assure you that there will be steps taken to bring about an impeachment inquiry."
For more on this story, continue to watch Vindy.com and read Tuesday's edition of The Vindicator.