300 pay respects to YPD officer
The mother of an officer shot to death five years ago attended the funeral.
STRUTHERS — "He was a plus in my life."
The words were spoken Tuesday in the parking lot of St. Nicholas Church on Fifth Street as a procession of marked and unmarked police cars filed in behind a silver-gray hearse carrying the body of Youngstown Police Department Detective Sgt. Robert Deichman.
Robert Deichman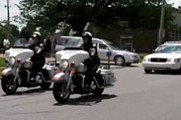 Video
The procession had wended its way from Schiavone Funeral Home on Belmont Avenue.
The 40-year-old accident investigator died in a fiery predawn crash on Salt Springs Road last Thursday, just minutes from his apartment on Tyrell Avenue. He was off duty at the time and returning home from celebrating a fellow officer's birthday when his unmarked cruiser slammed into the side of a semi tractor-trailer pulling out of a driveway.
"He was a very kind man, never walked by anyone without saying hello," Patrolman Bill Ward said, clenching his white YPD honor guard gloves in his hands as he talked. "I feel bad for the younger ones who won't get to know him. He was a plus in my life."
Deichman and Patrolman Michael Cox were hired the same day in 1999, on Jan. 19. Up until the past year or two, they'd get together on their "anniversary" and hoist a beer or two.
"I was always impressed by how smart he was," said Cox, better known as boxer Kelly Pavlik's cornerman. "He could have won on 'Jeopardy,' knew a lot of trivia. Police need common sense and Rob had that, too."
As bells tolled a mournful dirge, officers — some from as far away as Cleveland and Columbus suburbs — lined each side of the walkway and held their salutes until the coffin was placed inside the church at 11 a.m. Among the pall bearers were Patrolman Morris Lee and Detective Sgt. Brian Flynn.
Some of the 300 or so who came to pay their last respects wore a lapel photo of Deichman in his uniform. The photo lists "sunrise" as Sept. 24, 1967, his birthday, and "sunset" as June 19, his death.
Deichman's sister, Dawn Brown, showed reporters an "In Loving Memory" tattoo on her right arm that depicts her brother's badge.
Youngstown officers wore a small black band across their badges.
Deichman's wife, Lori, and their daughters, Jenna, 15, and Julianna, 11, who live in Struthers, each wore the photo. The Deichmans had been separated.
The somber funeral Mass caused many to wipe tears from their eyes, among them Detective Sgt. Patricia Garcar, whose desk in the Accident Investigation Unit faces the one Deichman once occupied. Before the funeral, she described herself as "numb."
With the hymn "Be Not Afraid" as background, Lori Deichman helped guide her husband's coffin to the altar. Sunlight, somewhat muted by the church's 48 stained-glass windows, fell upon the sad assemblage that included family, friends and city, county, state and federal officials.
Mary Kay Hartzell, whose 26-year-old son, Patrolman Michael Hartzell, was shot to death on duty in April 2003, said she held up fairly well until the hymns, especially "Amazing Grace," were sung. She wanted to be there to show support for Deichman's grieving family and fellow officers.
St. Nicholas Pastor Bob Bonnot said God called Deichman out of this world. The priest described the Mass as both a sorrowful celebration of early death and a joyful celebration of life. Loved ones read scriptures.
"Police officers — their lives are fragile each and every day," Father Ed Noga, pastor at St. Patrick's Church, said from the altar. "It's not a job, but a calling."
He said Deichman died too young and God will welcome him home and open the gates of heaven.
After the communion procession, Deichman's sister Dawn tearfully addressed the gathering. "He loved all of us and he loved all of you. There are so many memories."
Lori Deichman, her daughters by her side, said "he was our hero." Her voice cracking, she said she'll miss his sarcastic smirk and the devil in his eye.
Around 12:15 p.m., the Mass ended. A procession then made its way to Calvary Cemetery on Youngstown's West Side.
With a backdrop of lush greenery, the coffin was placed in front of a statue of the Virgin Mary holding her dead son Jesus. Police stood at parade rest, their arms folded behind them, as the final goodbyes were said.