Prosecutor asks Judge Durkin to step down from murder case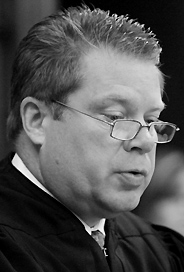 Photo
Judge John Durkin listens to testimony - Terrance Tate, whose confession was suppressed by the 7th District Court of Appeals, 8:30 a.m. The prosecution is appealing the suppression to the Ohio Supreme Court. Tate faces the death penalty.
The prosecution says the judge is a potential witness, thanks to new evidence.
YOUNGSTOWN — Mahoning County prosecutors have asked Judge John M. Durkin to remove himself from the case of accused baby killer Terrance Tate because they say the judge has become a potential witness regarding newly discovered evidence.
Judge Durkin, of common pleas court, said in a July 23 meeting with prosecution and defense lawyers that he would take the request under advisement and make a decision as quickly as possible.
Tate is charged with aggravated murder with a death-penalty specification in the fatal beating of Javonte Covington on his first birthday in April 2006.
Dawn Cantalamessa, an assistant county prosecutor, asked the judge to disqualify himself because the prosecution didn't receive from him copies of letters Tate wrote to the judge from county jail in May 2006 and August 2007.
The 2006 letter "had facts of the case that could be used as essentially substantive evidence," Cantalamessa told the judge during the meeting in his chambers.
"What we think now is that you become a witness, because this is what we would argue is newly discovered evidence," Cantalamessa told the judge. "My first inclination is to graciously ask you to recuse yourself."
Under the Ohio Code of Judicial Conduct, judges must disqualify themselves from cases where they are likely to be witnesses.
Another assistant county prosecutor, Martin P. Desmond, told the judge the letters were faxed to defense lawyers, John B. Juhasz and Lynn Maro, but not to the prosecution.
"This whole thing, frankly, looks very bad," Desmond told the judge. "We're extending a courtesy in asking you to consider stepping away from this case," Desmond added.
"It is a ruse to say you're going to be a witness when, in fact, there may be nothing that you would ever say that would see the inside of a courtroom," Juhasz told the judge.
Judge Durkin told the lawyers it is his policy to provide copies of such letters to both the prosecuting and defense lawyers in pending cases.
"There's never been an instance where I've instructed my staff to distribute it to one side and not the other," Judge Durkin said. "As it relates to the appearance of impropriety, perhaps that's a matter that I need to think about and address," the judge added.
The prosecutor's office frequently has claimed not to have received documents it was supposed to have received, Juhasz and Maro said.
Maro acknowledged to The Vindicator that her office received copies of Tate's letters to the judge in 2006 and 2007, but she would not discuss other aspects of the case.
In the May 2006 letter, Tate tells the judge he gave a false confession to police to keep the baby's mother, April Ford, from going to jail.
Tate, 23, of Hilton Avenue, wrote that police tricked him into taking the blame, and that he gave the false confession, thinking he was only facing an assault charge, according to a summary of the letter in a memorandum filed by Tate's defense lawyers.
Ford, 27, of Griffith Street, has pleaded guilty to child endangering and has agreed to testify against Tate. Her sentencing has been deferred until Tate's case is concluded.
Cantalamessa said prosecutors learned of Tate's May 2006 letter to the judge when they recently listened to telephone calls Tate made from the jail to his mother, which include discussion of one of the letters.
Prosecutors asked the judge's secretary for that letter last week, and the secretary found both letters and made copies of them for the prosecution and defense, Cantalamessa said.
Tate's statement in the May 2006 letter is similar to one prosecutors said Tate made in a May 21, 2006, telephone call from the jail to his mother. In that call, Tate told his mother he took the blame because he believed he was only facing an assault charge and did not know Javonte had died of his injuries.
The 7th District Court of Appeals upheld Judge Durkin's decision to exclude Tate's confession to police from evidence in his trial because police failed to warn him of his right to remain silent before questioning him about Javonte's injuries while he was in police custody.
The prosecution is appealing to the Ohio Supreme Court. Prosecutors said Tate's confession was critical to their case.
Desmond and Cantalamessa declined to comment beyond their remarks in the July 23 hearing, and they wouldn't say whether the prosecutor's office would file an affidavit of disqualification asking the Ohio Supreme Court to take Judge Durkin off the case.
The prosecution could have used the May 2006 letter to cross-examine Tate when he testified at Judge Durkin's evidence-suppression hearing concerning the methods police used to obtain the confession, Cantalamessa said.
In that hearing, Tate testified that police behaved aggressively toward him, yelled at him and called him a liar in 45 minutes to an hour of questioning before warning him of his right to remain silent.
"It is admissible. It's a statement from a defendant," Desmond said of Tate's May 2006 letter to the judge.
In the memorandum they filed Monday, Juhasz and Maro said there is no reason for the judge to remove himself from the case.
If the prosecution were to offer Tate's May 2006 letter as evidence in his trial, the defense lawyers argued the letter would be irrelevant.
"The threshold questions are whether the letter is admissible, and, if so, whether testimony from this court [Judge Durkin] is necessary to admit the letter," the defense lawyers wrote.
Such an inquiry is necessary because Chief Justice Thomas Moyer of the Ohio Supreme Court "has held that judges are to recuse themselves only in exceptional circumstances," they wrote.
"The prosecutor offered nothing to establish a deliberate effort or intent by the court to conceal information from the government," the defense lawyers wrote.