Probe into fatal cop crash proceeds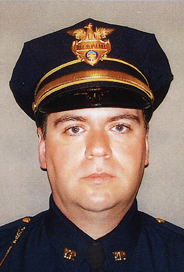 Photo
Robert Deichman YPD offficer killed in traffic accident
The officer had at least five beers and one shot, a new report shows.
YOUNGSTOWN — At 3:20 a.m., David J. Feliciano pulled his tractor-trailer with broken marker lights into the path of a car driven by a police officer who'd had too much to drink, crash investigators said.
The fiery June 19 crash killed 40-year-old Detective Sgt. Robert Deichman, a nine-year veteran of the Youngstown Police Department assigned to the Accident Investigation Unit. Feliciano, 38, of Berlin Center, was not injured.
The Ohio State Highway Patrol released a partial report of the fatal crash Monday and a supplement Wednesday. Still to come is reconstruction of the accident that happened in front of Zorro Trucking, 2755 Salt Springs Road.
The reconstruction is expected to include an estimate of how fast Deichman, who was off duty, was traveling in his city-owned unmarked 2003 Ford Taurus. Posted speed for the road is 35 mph.
Deichman's blood-alcohol concentration was 0.158. The legal limit is 0.08.
Feliciano's wife said Wednesday that he is not commenting and referred questions to Zorro Oil Field Services' insurer. The representative could not be reached Wednesday.
After inspection of Feliciano's truck, the patrol listed these violations, unrelated to the crash: The trailer has inoperative left and right side front lower ID/marker lamps (broken, no lenses or bulbs); left side lower intermediate lamp has broken (disconnected) wire and is inoperative; the right side lower intermediate lamp is covered with mud and inoperative; left and right side lower reflective tape is missing at center and not covering 50 percent of trailer sides. The tractor was placed out of service by the patrol because two brakes are out of adjustment and the fuel cap is leaking.
Feliciano told investigators that a bulldozer pushes the trailer as it is placed at well sites and, as a result, the tape gets torn away and lamps become broken and inoperative.
The patrol determined that Feliciano, as he was pulling out of the driveway at Zorro Trucking to travel westbound, failed to yield right of way to Deichman's car coming eastbound.
The driver of the first truck out of the driveway told the patrol that he saw the car "two football fields" (600 feet) down the road and coming fast. He estimated the car's speed at 70 to 75 mph and said he didn't see brake lights when it hit the truck.
Feliciano, the second truck driver to leave the lot, told the patrol that he looked both ways before pulling out. He said he first saw the car about a football field (300 feet) away and had driven across the center line on Salt Springs with most of the trailer when the car hit the frac tank. (A frac tank is used to hold fluid when a well is being fractured).
Feliciano estimated Deichman's speed at 45 mph "or more" and said the car driver took no evasive action, reports show. The truck driver said he pulled up a little because flames were coming out of the Ford Taurus, took his fire extinguisher and tried to put the fire out while another truck driver called 911, according to the patrol report.
City Prosecutor Jay Macejko has said he will wait for reconstruction of the crash before determining what charges will be filed against Feliciano.
At the time of the crash, Deichman was off duty but on call — expected to respond in the event of an accident that would require him to investigate. Officers are paid $88 for each week they are scheduled on call.
The patrol's supplemental report includes a statement from a police officer who had been with Deichman before the accident. The officer told investigators that Deichman had consumed at least five beers and one shot over the course of the evening.
Deichman, the officer said, had been fighting with his ex-girlfriend all night, texting back and forth. When asked by investigators what condition Deichman was in when dropped off at his car on Steel Street around 3 a.m., the officer said "just upset and mad about the situation with his girlfriend."
The officer couldn't explain why Deichman ended up traveling eastbound on Salt Springs to get home. Steel Street northbound leads into Salt Springs, and Deichman would have then traveled westbound on Salt Springs to get to his apartment on Tyrell Avenue.
Instead, Deichman apparently entered Salt Springs from North Meridian Road and headed eastbound to get home. The distance from the point of the fatal crash to his apartment is one-half mile.
Police Chief Jimmy Hughes has not commented to The Vindicator since Deichman's alcohol impairment was made public Monday afternoon. Hughes has not responded to calls and a message left in person at his office.
"We all learn lessons at our own pace and we all learned from this," said Capt. Kenneth Centorame, Youngstown Police Ranking Officers president. He then quoted a line on a police memorial that says "not to judge a man by how he dies but how he led his life."
Centorame said he remembers Deichman from his first day on the job and has many fond memories. The captain said the union's focus is on the dead officer's family.
Deichman and his wife were legally separated and in the process of divorce, court papers show. He left behind two daughters.