Report: Cop under influence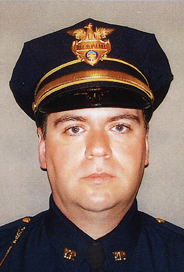 Photo
Robert Deichman YPD offficer killed in traffic accident
'On-call' status requires officers to be fit for duty.
YOUNGSTOWN — Detective Sgt. Robert Deichman's blood-alcohol concentration was nearly double the legal limit when he drove an unmarked police car into the side of a semi tractor-trailer and died, crash investigators said.
The Ohio State Highway Patrol was called in to investigate the crash that took place in front of Zorro Trucking, 2755 Salt Springs Road, around 3:20 a.m. June 19. Deichman, traveling in the eastbound lane in a 2003 Ford Taurus, hit the side of the tractor-trailer that had pulled into the roadway to travel westbound. The truck driver, David J. Feliciano, 38, of Berlin Center, was not injured.
The patrol's incomplete report, released Monday afternoon, shows that Deichman's blood-alcohol concentration was 0.158. The legal limit is 0.08.
Deichman, who was not wearing his seat belt, was dead at the scene. His injuries included severe lacerations and broken bones on his left arm, a broken right wrist and cuts to both hands, forehead, right eyelid, nose, lips, cheeks and chin, the patrol said.
The point of impact was a half-mile from his apartment on Tyrell Avenue.
"Sadly, it appears that this loss could and should have been avoided," Mayor Jay Williams said in a press release. "If anything can be taken away from this experience it should be a somber admonishment that operating a motor vehicle while impaired is forever a tragedy waiting to occur. The family of Detective Sgt. Deichman remains in our thoughts and prayers."
Police Chief Jimmy Hughes could not be reached.
The report notes that the marker light in the middle left side of the truck's trailer was not functioning at the time of the crash. The truck driver told investigators that he first noticed Deichman's car when it was between two business signs west of Zorro Trucking. The investigators, using two state cruisers, determined the point of possible perception of a vehicle traveling toward Zorro Trucking was 1,811 feet.
The pavement at the time of the crash was dry and clear of debris. The crash sight is not directly lighted but there are several lighted signs and parking lots nearby making the area fairly well illuminated, the patrol said.
The initial report will be supplemented with crash reconstruction and speed estimation — the posted speed is 35 mph — and given to city Prosecutor Jay Macejko. He said Monday that he will review the crash reconstruction before determining if charges will be filed against the truck driver.
The crash report lists contributing circumstances as the truck driver's failure to yield. Under "condition," it lists Feliciano as normal and Deichman as under the influence of alcohol. Feliciano's urine was tested for alcohol/drugs, but the results were not available Monday.
Records show Feliciano was charged with failure to yield right of way at an accident on South Avenue in late 2005 and pleaded no contest to a reduced charge. He received probation and had to pay the other driver's deductible.
Deichman, 40, was a nine-year veteran of the Youngstown Police Department. He had been assigned to the Accident Investigation Unit.
At the time of the crash, Deichman was off duty but on call — expected to respond in the event of an accident that would require him to investigate. Officers are paid $88 for each week they are scheduled on call.
On-call status requires that officers be in reasonable proximity of the city and fit for duty, according to the union contract. Department policy prohibits use of a city vehicle after drinking.
Deichman had been out celebrating a fellow officer's birthday.
Patrolman Brad Ditullio, who had been with Deichman, told patrol investigators that they arrived at a Mahoning Avenue bar (on the West Side) around 9 p.m. June 18. They stayed until about 1:15 a.m. and then left together to go to a bar on Midlothian Boulevard on the South Side. Deichman left his city car parked at Mahoning and Steel Street. Ditullio dropped Deichman back off at his car at 2:45 a.m.
The patrol report does not indicate where Deichman went between 2:45 and the time of the crash.
Damage to his city vehicle was extensive.
Deichman was buried a week ago at Calvary Cemetery after a funeral Mass at St. Nicholas Church in Struthers.
Some of the 300 or so who came to pay their last respects at the church wore a lapel photo of Deichman in his uniform. The photo lists "sunrise" as Sept. 24, 1967, his birthday, and "sunset" as June 19, his death.
Deichman's sister, Dawn Brown, showed reporters an "In Loving Memory" tattoo on her right arm that depicts her brother's badge. Youngstown officers wore a small black band across their badges.
Deichman's wife, Lori, and their daughters, Jenna, 15, and Julianna, 11, live in Struthers. The Deichmans were legally separated in 2003, court papers show. He had filed for divorce in March.
meade@vindy.com