Flames were too strong, survivor says
Fire Victims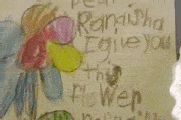 Video
Fire Victims: In memoriam
Six Dead in Fire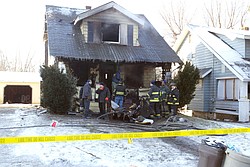 Gallery
The children liked to dance to R&B music, their aunt said.
By DENISE DICK
VINDICATOR STAFF WRITER
YOUNGSTOWN — One survivor of a blaze that killed six family members says she tried to get upstairs to aid her mother, sister, nieces and nephew — but the flames were too strong.
Retia Crawford, 19, was asleep in her basement bedroom early Wednesday when she was awakened by Christopher Taylor, a friend of her brother's.
"He told me the house was on fire," she said.
They headed for the living room "but the fire was too big," Crawford said.
She and Taylor ran out a side door from the basement, and Crawford called 911 from a neighbor's house.
Her mother, Carol, 46; sister, Jennifer, 23; three nieces, Ranaisha, 8, Jeannine, 5, and Aleisha, 3; and nephew, Brandon, 2, died. Investigators found their bodies in upstairs bedrooms. Funeral arrangements are pending.
Michael A. Davis, 18, of 817 Bennington Ave., around the corner from the Crawford home, is charged with six counts of aggravated murder and 11 counts of aggravated arson. He's being held in the Mahoning County Jail without bond.
Also among the survivors are Julius Crawford, 16, Carol's son and Retia's brother, and Ricky Williams, 16, a family friend. Julius jumped out a second-story window, his sister said.
She knew her six family members hadn't gotten out.
"How could I not know?" she said.
April Martin, owner of the thrift store where Carol Crawford worked, has said that she gave Retia and Julius the down-payment for an apartment on the city's East Side.
"My mom, she was a beautiful, wonderful person," Retia said. "She was nice to everyone; my sister, the same thing."
The kids were crazy, she said.
"We used to play [R&B] music for them and they'd dance around," Retia Crawford said.
She said she knew before detectives even told her that the fire had been intentionally set.
"I just knew," Retia Crawford said. "I felt it in my heart."
She's heard about the motive of a stolen cell phone but doesn't know much about it. Retia Crawford says she knows Davis, but her family stayed away from his family.
She was blunt regarding what she'd say to the man charged in the deaths of her family members.
"He needs to die," Retia Crawford said. "Just like he killed my family, he needs to die, too."