Victims of fatal fire identified
Six Dead in Fire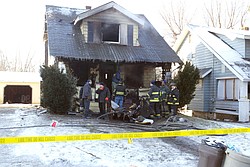 Gallery
1645 Stewart Ave. Youngstown OH 44505
YOUNGSTOWN — The Mahoning County Coroner has identified the six victims of a fatal arson fire on the East Side this morning.
They are: Carol Crawford, 46, her daughter Jennifer R. Crawford, 23, and Jennifer's four children, Raneija, 8, Jeannine, 5, Aleisha, 3, and Brandon, 2.
Four teenage boys were taken into custody for questioning after the predawn fire that investigators said was intentionally set.
Investigators believe an accelerant was poured on the porch of 1645 Stewart Ave. and ignited. Within minutes, flames engulfed the five-room 1 3/4 story house.
Fire Chief John J. O'Neill Jr. said 911 was called at 5:29 a.m.
Police and fire investigators were expected to provide details later today on the teenage boys being questioned.
Three other residents of the home, a man and two women, made it out of the and were taken to St. Elizabeth Health Center. Their conditions were not immediately known.