East Side fire deaths being treated as homicides
Six Dead in Fire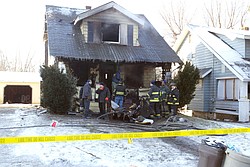 Gallery
YOUNGSTOWN — Detectives are treating the deaths of two women and four children in a house fire as homicides, city police said this morning.
Firefighters were called to 1645 Stewart Ave. on the city's East Side at 5:29 a.m. today and the suspected arson fire was under control by 9 a.m., even though smoke still billowed from a gable on the two-story wood frame house.
Fire Chief John J. O'Neill Jr. said the victims were found throughout the house. Fire officials said the Ohio State Fire Marshal would send in a dog to help search for accelerants. Police Sgt. Patrick Kelly said it appears an accelerant of some kind had been ignited on the front porch
Kelly said four survivors are being treated at St. Elizabeth Health Center.
For more on this story, return to Vindy.com all day and see Thursday's Vindicator.