Supporters turn out to celebrate Mayor Williams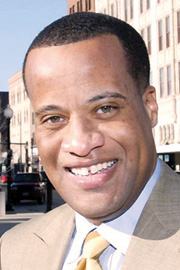 Photo
Youngstown Mayor Jay Williams
The mayor used the event to highlight a new crime-prevention program.
By ANGIE SCHMITT
VINDICATOR STAFF WRITER
YOUNGSTOWN — It began in 2006 as an inaugural celebration for the 34-year-old boy wonder who upset the entrenched party to become the city's first black mayor.
And in 2008, Jay Williams' supporters are still celebrating the arrival of new leadership in Youngstown.
Dressed in their finest, they packed Stambaugh Auditorium for the formal dinner and State of The City address, now known as the Mayor's Community Celebration.
Mayor Jay Williams Community Celebration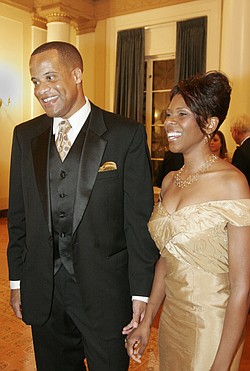 Gallery
"We're pushing 600 people again," said Claire Maluso, the city's Federal Plaza director and an organizer of Saturday night's event. "We're pushing the limits of this place."
In the crowd were volunteers from Williams' campaign such as Wayne Penny Jr., a Youngstown State University graduate student, and pleased observers such as Poland resident Anthony Scarnecchia.
"I support Jay any way I can," Penny said.
"I believe in him," Scarnecchia added. "I think he's a wonderful mayor."
Williams admitted to fears about the continued support for the event, which benefits a range of charitable causes serving women and children locally.
"Each year I become overly anxious and paranoid about whether or not there is still interest in the event," Williams said during his keynote speech.
"And each year the event turns out better than the previous," he added.
He seized the opportunity to recap the events of the past year and unveil his plans for the next, highlighting the triumphant return of the Italian Fest to downtown while lamenting the increase in the homicide rate.
"The year 2007 was a test of my faith," he said. "Not unlike most other years, we again observed and experienced the best and sometimes the worst that life has to offer."
He focused his discussion of the year to come on detailing plans for a new crime-prevention program, known as Operation Ceasefire.
The strategy calls for aggressive law enforcement and prosecution — gunshot detection systems and video surveillance and gang suppression through grass-roots community initiatives. It was shown to be effective in curtailing lawlessness in Boston.
Williams encouraged members of the community to keep their heads held high in spite of adversity.
"There is nothing wrong with Youngstown that cannot be fixed by what is right with Youngstown," he said. "When faith is not enough, we must still believe."
aschmitt@vindy.com