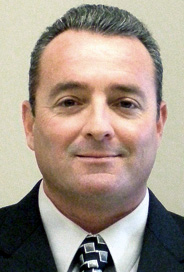 Photo
The state has a right to set ballot qualifications, the judge ruled.
By PETER H. MILLIKEN
VINDICATOR STAFF WRITER
YOUNGS-TOWN — David P. Aey won't be on the March 4 Democratic primary ballot for Mahoning County sheriff.
And incumbent Sheriff Randall A. Wellington, who challenged Aey's credentials to run, said he wasn't surprised by a federal judge's ruling that kept his opponent's name off the ballot.
"There was never any doubt in my mind that David Aey wasn't qualified to be sheriff," he said. "I'm very pleased with the results."
U.S. District Judge Peter C. Economus upheld the Ohio Supreme Court's prohibition against the appearance of Aey's name on the ballot.
In a ruling late Tuesday afternoon, Judge Economus denied Aey's request for an injunction to restore his name and dismissed the case. The federal judge's ruling means Wellington will be unopposed in the primary.
Attempts to reach Aey and his lawyer, Martin E. Yavorcik, on Tuesday were unsuccessful.
"This court ultimately determines that Ohio has important regulatory interests that justify the limited burdens" imposed by candidate eligibility requirements in state law, Judge Economus ruled.
In its Feb. 14 ruling, the state Supreme Court granted Wellington's request to have Aey removed from the ballot because he lacks two years of supervisory peace officer experience at the rank of corporal or above, which state law requires of candidates for county sheriff.
The U.S. Supreme Court "has long recognized that states retain the power to regulate and control their elections through the establishment of ballot access requirements," Judge Economus ruled.
"Ohio has an important interest in assuring that candidates for sheriff are familiar with a wide range of law enforcement topics, and the objective standards in [state law] facilitate that goal," the federal judge added.
In his federal lawsuit, Aey unsuccessfully claimed the state election qualification law is an unconstitutional prior restraint against his free speech rights and is contrary to the First and 14th Amendments to the U.S. Constitution.
Aey unsuccessfully claimed that his three years of supervisory experience with the U.S. Marshals' Violent Fugitive Task Force qualified him to run for sheriff. Aey had been a Mahoning County deputy sheriff from 1993 until his resignation last August to run for sheriff.
Aey is permitted to return as a deputy to the sheriff's department at full seniority, salary and benefits within one year after his resignation.
"I don't know what David will do," Wellington said.
After a hearing, the county board of elections voted to keep Aey on the ballot before the state Supreme Court ruled him off.
Wellington will have no Republican opposition in November. Howard Faison, a retired Mahoning County sheriff's lieutenant, has filed nominating petitions to run as an independent candidate on the Nov. 4 ballot. The independent candidate filing deadline is Monday. The write-in candidate filing deadline is Sept. 3.
Officials of the Ohio attorney general's office, which intervened in the federal case in defense of the constitutionality of the state election qualification law, and county Prosecutor Paul J. Gains, who represented the county elections board, also could not be reached Tuesday.