"It just shakes you. The serial number on the dog tag and the
bracelet are the same," said Raymond Gent.
By WILLIAM K. ALCORN
VINDICATOR STAFF WRITER
YOUNGSTOWN — Without warning this past Christmas Eve came startling news of a father who was killed more than 63 years ago on Christmas Day 1944 during World War II's Battle of the Bulge.
Interview with Thomas Gent's Children

Video
Interview with Thomas Gent's Children
Barbara Mondok of Austintown listened to the telephone in stunned silence as she learned that an I.D. bracelet given to her father, Thomas E.L. Gent, by his wife, Edith, had been found after all those years on the spot where he was killed by an artillery shell.
On that same Christmas Eve, Raymond Gent of Akron, Thomas' son, also received a call about the bracelet.
"My mother had told me we didn't get anything of my father's back except a ring. She always told me about that bracelet. She said she was still paying for it after he died," Raymond said.
The bracelet, missing its chain, has "Thomas E. Gent" and his military serial number engraved on the outside and "Your Wife Edith" on the underside.
Raymond said the first thing he did after recovering from the initial shock was to check the serial number on the bracelet, shown on a YouTube video site, against the serial number — 35842333 — on his father's dog tag.
Pierre Godeau's Discovery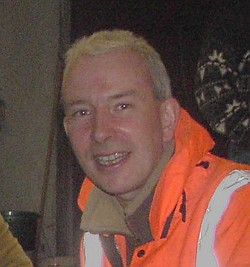 Video
Taken soon after Pierre Godeau's discovery of Thomas Gent's artifacts
Thomas Gent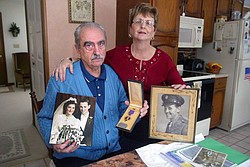 Gallery
The Vindicator Special Report Photos
"It just shakes you. The serial number on the dog tag and the bracelet are the same," he said.
Notified by letter
The bearer of the unexpected news was Patricia Gent of Youngstown. She, along with other Gents listed in the Youngstown telephone book, had received letters from Pierre Godeau of Belgium, who was looking for relatives of the slain American soldier. Patricia's husband, Donald, who died in November, 2007, was one of Thomas' nephews.
Barbara did not receive a letter from Godeau because he did not know her married name; nor did Raymond, because he lives in Akron, beyond Godeau's search area.
After receiving Godeau's letter Dec. 24, Patricia, she waited a couple of hours before calling Barbara, because, she said: "I didn't want to lose my composure. I cried when I read the letter."
Eventually she couldn't hold off any longer and made the call.
"I told Barbara that I had some news that might be a little bit unsettling. She listened very carefully, very intently," Patricia said.
That same night, Barbara and her husband, Fred, and other family members looked at Godeau's YouTube video of the bracelet. YouTube is an Internet Web site where users can upload, view and share video clips.
Overwhelming reaction
"I talked to Barbara the next day. She said it was overwhelming to them," Patricia said.
Godeau, who hunts for and collects WWII artifacts in his spare time, found the bracelet on Nov. 5, 2007, in a wooded area near Chaumont, Belgium, a few miles southeast of Bastogne.
Using the Internet to search U.S. military records, combined with his extensive knowledge of the Battle of the Bulge and an eye-witness report, Godeau determined that Gent and four other American soldiers were killed instantly Dec. 25, 1944, by an artillery shell that exploded within about five yards of the foxhole they were digging.
But, as it turned out, Godeau unearthed more than the I.D. bracelet of a long-dead Youngstown soldier, killed in one of WWII's bloodiest and most famous battles.
Longing for answers
His find provided answers to many of the questions about his death for which Gent's family had been longing.
That their father was killed during the Battle of the Bulge on Christmas Day, Barbara and Raymond knew.
But they say Godeau's discovery of the bracelet, along with other information about their father's unit and how he came to be in the Battle of the Bulge, was previously unknown to them.
"This is incredible. It fills in the gaps in the information we had about how our father died," said Raymond.
"It brought tears to my eyes ... when Pierre held the gold-colored bracelet in his hand," Raymond said upon first viewing Godeau's video on YouTube.
"Everything was so buried for all those years. Then, when I saw the video, it all came out," Barbara said, tears welling in her eyes.
Gent enlisted in the Army in June 1944, despite being married and having two children. He was killed about seven months later.
To Barbara and Raymond, their father, who Raymond said moved from Wales to Youngstown in his teens and lived on Byron Street, is mostly an obscure figure, except for stories told by their mother and other family members. Barbara said the father figure in their lives as they were growing up was her mother's brother, Edward Cappelli.
No memories
Barbara, 65, a 1960 graduate of Ursuline High School, was 2 years old when her father was killed and has no memory of him. She treasures a birthday card, kept by her mother, that her father sent to her for her second birthday, slightly more than a month before he was killed.
Barbara and Fred have two sons: Stephen Mondok of Champion and Thomas E. Mondok in Arkansas, and five grandchildren. Fred, now retired, managed the Boardman Plaza for the Debartolo Corp. and then Simon Properties.
Raymond, now 66, was 3 years old when his father died, and is not sure what he personally remembers about his dad.
"It gets to a point where you don't know what you remember and what you've been told," he said.
He retired as an Akron City police detective in 1994. A 1959 graduate of Youngstown's East High School, he served in the Navy as a corpsman from January 1962 to May 1966, but he never served in Vietnam. He said he realized later that he was kept out of the Vietnam War because he was the only surviving son of a man killed in WWII. Raymond has a son, Kristopher of Uniontown; a daughter, Angela Gent of Akron; and seven grandchildren. His wife's name is Judith.
Failed in search
He said he had tried unsuccessfully over the years to find information about his father but was blocked because his father's records were destroyed in a fire at a federal facility in St. Louis, Mo., where they were stored.
Other members of the family, the Gents who received Godeau's letter, were also grateful for the information about their uncle, who is considered a family hero, Barbara said.
"They never met my dad, but they loved him so just from the stories they have heard," Barbara said.
"We want to thank you for the wonderful gift you gave us. The video was touching, shocking, amazing, and sad. Seeing the bracelet moved my mother to tears of sadness and joy, said Barbara's son, Stephen Mondok of Champion, in an e-mail to Godeau.
Raymond's son, Kristopher, also e-mailed Godeau.
"When I first saw the bracelet, I was skeptical if this could have actually been my grandfather's, but had no doubt when it was turned over to reveal my grandmother's name," Kristopher said.
In his letter to Gent family members, sent about a week before Christmas 2007, Godeau, who lives near Bastogne, described the events he is convinced led to Gent's death.
Battle details
"During the Battle of the Bulge, the American 318th Infantry Regiment of the 80th Infantry Division took part in liberating Bastogne, which had been surrounded by the Germans. Pvt. Gent was in E Co. of the 318th.
According to Godeau, Gent's unit's part in the Battle of the Bulge is not mentioned in histories of the battle. Here is his reconstruction of what happened.
On Dec. 16, 1944, Gent's unit was sent as a replacement. Gent saw action during a few days around Luxembourg and then moved to Chaumont on Dec. 24.
Last November, while metal detecting in the woods where Gent was killed, Godeau found a number of U.S. Army artifacts. They included an exploded canteen, a spoon twisted by the blast, a splintered shovel and damaged bayonet scabbard — and, most important, Gent's bracelet. The shell crater caused by the artillery shell that killed Gent and the others is still visible today, and most of the items were recovered within 10 yards of the hole, he said.
He also found several copper shell fragments at the spot, leading him to believe that Gent and his fellow soliders may have been killed by friendly fire. The Germans had no copper in their shells or shell fuses at that stage of the war. However, he said he cannot prove that theory. The fragments might have come from U.S. shells shot well before the Dec. 25 tragedy occurred, he said.
Museum honors
In his letter to Gent's family, Godeau asked if they could provide any more information about Gent's life, and a picture of him taken during WWII, for placement in a museum in Bastogne.
The Gent family has asked Godeau to send them the bracelet to add to the few mementos they have of their father, grandfather and uncle.
Godeau said it is his intention to return the bracelet to Gent's family.
However, he asked that he be permitted to keep it until after an exhibition in Bastogne this summer in which he plans to participate.
"We would be honored to stand behind the items of Thomas Gent ... and contribute to a better knowledge of the Battle of Bastogne," he said.
History book
Also, Godeau said he will be involved in making a book picturing the most historic relics of the Battle of Bastogne and asked for permission from Gent's family to use Gent's information.
"It is ... my own personal duty and honor to make sure that such men never get forgotten for what they did for our common liberty," he said.
"Thomas Gent is, in his own way, the spokesman of the unsung heroes of Bastogne: The replacements, and furthermore, a replacement in an outfit which played a pivotal role in the world famous battle of Bastogne, but an outfit which [is] never mentioned anywhere in the history books," Godeau wrote.
But, Gent is not just a man to be remembered for his part in the history of WWII. He is a man never forgotten by his family.
While they are still sorting out their emotions — "It's been like a roller coaster since we heard," Barbara said — they are extremely grateful to Godeau.
Gent's body was brought back in March 1948, from Hamm Cemetery in Luxembourg and reburied in Lake Park Cemetery in Youngstown.
Gent's wife, the former Edith Cappelli, died at age 79 on Nov. 11, 1997 (Armed Forces Day).
"It was meant to be. She traveled, she had friends, and she loved to go to Atlantic City and gamble, but she never remarried," Barbara said.
"I think she was still waiting for him to come home," Raymond said.
alcorn@vindy.com