---
Wednesday, February 13, 2008
He's had Ohio State on his shorts (Oops: The Ohio State). He's even had a crack cream company.
So what trunks will Kelly be sporting Saturday night? Here's a glimpse.
Pavlik has struck a promo deal with Phantom Fireworks.
We'll dig into the story a bit more tonight and tomorrow. In the meantime, here's the press release the groups just issued:
Pavlik, Phantom Fireworks an Explosive Combination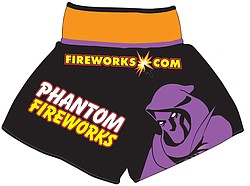 Photo
Kelly Pavlik boxing trunks
(YOUNGSTOWN, Ohio) – Team Pavlik and Phantom Fireworks have formed a promotional partnership for World Middleweight Boxing Champion Kelly Pavlik's upcoming rematch against Jermain Taylor on February 16, 2008. Phantom Fireworks will sponsor Pavlik's boxing trunks during the much-anticipated Pavlik-Taylor non-title fight in Las Vegas.
"We are proud to partner with Kelly Pavlik," said Phantom Fireworks President Bruce Zoldan. "Kelly's explosive boxing style and his commanding presence in the ring, coupled with his strength of character and staunch support of worthwhile charitable causes, have made Kelly a true home-town hero in the Youngstown, Ohio area. Phantom is proud to be a part of Team Pavlik."
Zoldan and Pavlik, both Youngstown natives, share a love of the community and each takes every opportunity to reciprocate the support that the local area has given to both of them. "Kelly and the Phantom Fireworks organization are a perfect fit," said Joe Schiavoni, Pavlik's local attorney. "They both believe in returning to their community and many worthwhile causes the level of support they have received over the years."
The Phantom Fireworks name, logo and Web site address will adorn the back of Pavlik's trunks during the fight.
"Kelly is a fine young man with a big career in front of him," said Zoldan. "Professional boxing is lucky to have such a strong role model as Kelly wearing the championship belt."
The Pavlik-Taylor II fight this coming Saturday at the MGM Grand Garden arena in Las Vegas promises to showcase Pavlik's explosive boxing style, such as he demonstrated with an impressive barrage of third-round punches in their first fight.. Zoldan reported that the Phantom Fireworks team will be in Las Vegas to cheer Pavlik on. The fight will air on HBO Pay-Per-View.
During its peak season, Phantom Fireworks operates more than 1,200 temporary fireworks sales locations throughout the country. Its award-winning, bilingual Web site, www.fireworks.com, received over 700 million hits last year and could receive as many one billion hits in 2008.