Hope amid gloom Tech success, upturn downtown fuel optimism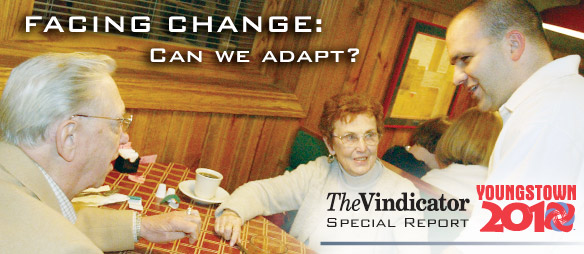 ---
By ANGIE SCHMITT
VINDICATOR STAFF WRITER
YOUNGSTOWN — Amid steep manufacturing losses and a faltering economy in the Valley, software startup Turning Technologies rose to international prominence.
Founded in 2002 by three Youngstown State University graduates and nurtured by the city's business incubator, last year, the company began shipping its audience-response technology around the globe.
It's been rated the fastest-growing, privately held software company in the nation, with a nearly 4,000-percent revenue growth rate in 2007.
But beyond Turning Technologies, there's been little good news lately, on the economic front, for the Mahoning Valley.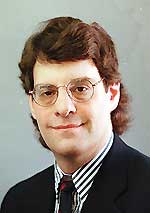 Photo
In 2006, 4,700 high-paying manufacturing jobs were lost in the Mahoning Valley between buyouts and layoffs at Dephi, WCI Steel and General Motors. Last year, the chamber predicted as many as 9,300 jobs would dry up as a result of the reduced spending power of the population, according to Reid Dulberger, who is vice president of the Regional Chamber.
In the meantime, the city had received a welcome dose of positive media attention as a result of its comprehensive plan, Youngstown 2010. The plan called for "right-sizing" and reorganizing the city, in the aftermath of the collapse of Big Steel and accompanying population losses.
Media reports indicated Youngstown was finally putting steel behind it, and Turning Technologies seemed to be the wave of the future.
But in spite of the positive recognition Youngstown has received for its planning efforts, the city's continuing economic uncertainty concerns Terry Schwarz, a senior planner with Kent State University's School of Urban Design and Regional Planning.
"Beautifying things is great, but you've got to kind of go beyond that and produce something with an economic return," said Schwarz. "For Youngstown to stabilize, I think that the economic development issue clearly needs to be addressed."
Economic challenges
As part of his promise to carry out the objectives of the 2010 plan, when elected in 2005, Mayor Jay Williams says he has increased economic development incentives. During 2007, those incentives helped secure $9.5 million in new investment in the city, as well as 120 jobs, he said.
However, the state of the current economy remains "a challenge," Williams said.
"We've seen economic growth within the city; it hasn't been at the pace we'd like to see," he said.
A major focus of the city's economic development initiatives has been devoted to developing its former mill sites, or brownfields. In his 2007 budget, Williams dedicated $1 million to increasing the capacity of the former Brier Hill Works and Ohio Works of U.S. Steel sites. Half was used to make road improvements, increasing access to the Ohio Works development; half was used to expand an additional 70 acres at Salt Springs Road Industrial Park. Together the sites currently employ 1,000, said development director T. Sharon Woodbury.
That investment is expected to create 500 jobs, she said.
Despite Youngstown's success in turning former mill sites into employment centers, a report from the Congress of Cities in 2001 found that such sites haven't been the job-producers steel mills once were.
Transitional economy
According to the chamber's Dulberger, Youngstown's economy is still dependent largely on manufacturing, and manufacturing, as a sector, is on the decline.
As many as 24,000 jobs have been lost in the Mahoning Valley since late 2000, when the nation began to slide into a brief recession, he said.
"We've been considered in a recession since then," he said.
U.S. Census figures announced for 2006 estimated Youngstown had plummeted to the poorest city in the nation, with a median household income of $21,000. Meanwhile, unemployment within the city had ballooned to 18 percent. Education, social service and health care surpassed manufacturing as the leading employer in Youngstown.
But Dulberger doesn't anticipate manufacturing will surrender its dominance in the regional economy. Though job losses have been painful, in many cases they have translated into increased efficiency and security for Mahoning Valley companies.
The future health of the region will ultimately depend on the area's ability to adapt to a changing economy, he said.
"The challenge we face is one of transition," Dulberger said. "The question is simply, how quickly we implement change."
Low rankings
According to a study by Youngstown State University's Department of Urban and Regional Studies, the region isn't particularly well-positioned for an economic renaissance.
The 2007 study found the business and innovation climate for the Youngstown-Warren metropolitan area ranked last among 11 similarly situated cities. When compared on issues such as per-capita income, new business employment growth and research and development funding, the Youngstown-Warren metro area was consistently outscored by Flint, Mich., Canton and Scranton, Pa.
The study notes that although Youngstown has garnered recognition for the success of its business incubator, many comparable cities are currently operating two or three such facilities.
Looking up
Amid all the malaise however, Williams said, there are some signs of a dawn on the economic horizon for Youngstown.
In accordance with a Youngstown 2010 objective to direct development to established commercial districts, the city's downtown has enjoyed steady investment over the last 10 years, said Dulberger.
In total, more $100 million in new investment has taken root in downtown in the last 10 years, Dulberger said.
Major developments include the $45 million Chevrolet Centre, the $11.2 million Nathaniel R. Jones Federal Courthouse on Commerce Street and the $7.5 million Mahoning County Children Services Building on West Federal Street.
From behind the bar at his family's restaurant, Joe Cassese has watched the energy building in downtown, he said. The Youngstown 2010 plan, increased enrollment at YSU, and the Chevrolet Centre have translated into big business for the historic downtown restaurant Cassese's MVR.
MVR has undertaken two expansions in the last 10 years, Cassese said.
"New people [are] venturing into downtown for the first time," he said. "You can definitely see the difference."
The continued redevelopment of downtown, however, hinges on the completion of two projects that promise to bring residential housing to Youngstown's central business district, said Dulberger.
Development projects
Margaret Murphy of Wick Neighbors understands the broader implications of her organization's plans to construct a $100 million retail and residential development, just northeast of downtown.
Wick Neighbors has been planning for six years to bring 270 assorted housing units, 20,000 square feet of retail space, and 10 acres of public gardens to the Smoky Hollow neighborhood.
"It isn't just about the bricks and mortar in Smoky Hollow," Murphy said, "it's about setting the momentum and building confidence in this city."
Private developer Zaremba Inc. has agreed to assume 80 percent of the cost for construction, said Murphy. Wick Neighbors has acquired 234 of the 264 parcels needed for construction. They hope to break ground in late 2008 or early 2009, Murphy said.
"We're coming down the homestretch," said Murphy. "These projects take patience."
Meanwhile, work was scheduled to begin in January on the Realty Towers, a 12-story historic building that is to be the first of three to be developed into condominiums by Cleveland resident Lou Frangos.
Frangos has owned the Central Federal Street building since 2000. But development plans were delayed by the grant application process, Frangos told The Vindicator in December. He will receive $3.1 million in state and federal grants for the project.
Frangos expects the Realty Towers project to be finished in 10 months.
Already, an improved downtown is helping improve the image of the entire area, said Dulberger.
When prospective businesses visit the Mahoning Valley, downtown is almost always a stop on the Regional Chamber's tour, Dulberger said.
"Ten years ago, that was a difficult tour to give," Dulberger said.
Downtown, Turning Technologies, Wick Neighbors and Youngstown 2010 remain hopeful signs for the future of Youngstown and the Valley, said Dulberger.
The economy of each is inextricable tied to the others, he said.
"It's virtually impossible for the city itself to be an island of success, if the Valley is struggling," Dulberger said.
The area needs to increase its educational attainment levels, especially in math and science, to prepare for a more technical economy, he said.
"We need to be smarter to exist in today's world," he said.
Looking ahead
It's a notion that Jim Cossler, the self-styled "chief evangelist" of the Youngstown Business Incubator, and his supporters are taking to the bank.
The 19 companies operating under YBI assistance, Cossler estimates, will reach a combined sales total for 2008 as high as
$100 million.
Meanwhile, the Youngstown Business Incubator and Turning Technologies are preparing to expand into a second building on West Federal Street.
One day, Cossler envisions the enterprise occupying as many as half a dozen downtown buildings.
"I would not be surprised to see Turning Technologies at 2,000 workers in three to four years," he said. The company now employs 120.
In the meantime, with help from the Ohio Department of Development, the Youngstown Business Incubator will continue to offer promising technical entrepreneurs, such as Mike Broderick, Mike Crosby and Don Arthurs of Turning Technologies, free rent, utilities and administrative support.
Those services, combined with the low cost of doing business in Northeast Ohio, give Youngstown-based software companies a competitive advantage over their competition in the Silicon Valley, said Cossler. The long-term effect of that dynamic and its impact on the local economy remains to be seen.
"What the Internet did for software was make location irrelevant and very relevant at the same time," he said. "I honestly can't think of a better location in the country for a software company than Northeast Ohio."
aschmitt@vindy.com