Getting rid of urban blight
On Oak Hill Avenue, the area around St. Patrick's Church has been transformed by the razing of vacant buildings.
By ANGIE SCHMITT
VINDICATOR STAFF WRITER
YOUNGSTOWN — It's a rare set of circumstances that makes Mike Damiano one of the most sought-after men in this city.
2010: Mike Damiano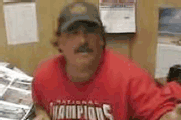 Video
Mike Damiano on building demolitions.
As head of Youngstown's demolitions department, Damiano wields the power to make blighted properties disappear.
On his demolition list sit 900 fire-damaged, dilapidated and unsecured vacant homes. He estimates thousands more sit vacant.
City residents who know the headaches of living near abandoned buildings overwhelm Damiano's voice mail. When he steps onto a demolition site, they pour from their houses like children to an ice cream truck.
"This job is like being the only nurse on a floor full of sick patients," he said. "You really have to fix the emergencies first."
Yet, every time Damiano gets a complaint, he surveys the property and adds it to his seemingly endless list.
These days, he is busier than ever.
Demolition sites were to be the building grounds of a "cleaner and greener" city as promised by the Youngstown 2010 plan. The plan's creators hoped demolition projects would deter crime, inspire people to invest in their homes and improve property values.
Since 2010 proponent Jay Williams was elected mayor in 2005, Damiano has seen his budget increase fivefold.
Now, Damiano is no longer managing blight.
He's battling it.
In two years, city-backed demolition crews have leveled an unprecedented 1,000 unsafe and unsightly buildings.
It's a big improvement from the years when Damiano's budget limited him to 150 to 200 buildings per year — a figure, he says, that "was barely enough to keep up with the arsons."
As Youngstown progresses further into the implementation phase of the 2010 plan, Williams calls the headway made by the city's demolition crews one of the most tangible successes to date.
But how are demolitions affecting city neighborhoods? Will the effort be enough to stem three decades of decline?
Neighborhood changes
Amid the vacant lots, carry-outs and humble places of worship that clutter Oak Hill Avenue on the city's South Side, St. Patrick's Church stands as a grand testament to the rise and fall of a city.
Built during the height of steel-boom prosperity, the towering Gothic cathedral now looms over this hard-luck landscape like a relic from a rosier past.
With Father Ed Noga at the helm, the church has endured the complete transformation of the neighborhood.
Then last year, with help from the city's demolition department, the landscape began to change. In total, 15 neighboring eyesores have been torn down.
The church used the space to expand its parking lot, build a playground, even do some farming. Last year, the congregation of St. Patrick's planted corn on empty land where three homes once sat, said Father Noga. They harvested the crop just in time for its annual picnic, he said.
"People said, 'People are going to steal it,'" Father Noga said. "But I had no problems at all."
Now, he says, demolitions have made him a believer.
"I've noticed a remarkable change in my neighborhood," the priest said. "Abandoned houses hide things. Abandoned houses become sites for drug deals and prostitution. You've got to get rid of the disease."
Elsewhere, response to the city's demolition program varies between mild enthusiasm and dismissal.
A small but perceptible change has taken place in the South Side neighborhood by the former Idora Park, residents there say.
"I've seen a little turnaround, I think," said Rick Ostheimer, a resident of Ottawa Drive since 1970.
Meanwhile, East Side resident Abdul Harris said demolition crews have sidestepped his neighborhood in favor of those with more political connections. He's still waiting for demolition crews to make an appearance in his crime-ridden neighborhood, where abandoned homes rival the occupied.
According to residents of northeast side neighborhood known as Lansdowne, a grassy field is a welcome improvement over an abandoned home.
Warren Harrell, was a founding member of the Northeast Homeowners and Concerned Citizens Association in the 1970s. Today, he is the association's president and he's still fighting to protect the interests of his neighbors.
"An old [vacant] house on a quiet street, eventually becomes a drug house," he said. "I'm thinking of a particular one on Lansdowne [Boulevard]."
"There are pockets of neighborhoods that are run down," he said. "And 2010, with the leadership of Mayor Williams, is addressing that with demolitions."
Crimes and vacant houses
Officials from the U.S. Census Bureau estimate there were approximately 8,400 vacant housing units in the city of Youngstown in 2006 — a figure that amounts to about 23 percent of the total housing stock. Many of those properties may be for sale or in excellent condition, city officials said.
It cost the city of Youngstown an average of $3,000 to demolish a single building last year. Officials attempted to maximize the $1.5 million investment by targeting fire-damaged structures and blighted buildings at major thoroughfares, near churches or schools.
Police Chief Jimmy Hughes credits the effort for a 13-percent decrease in crimes generally associated with vacant housing: prostitution, theft and drug use.
Unoccupied housing, however, continues to burden the Youngstown Fire Department, said Fire Chief John O'Neill Jr.
Abandoned buildings represent about half the department's structure fire calls, he said. Most are the result of arson.
Still, fortified demolition efforts have benefited the department as well, he said.
"We've had the dollars to get the structures that have been subject to fire torn down," O'Neill said. "Prior to being so aggressive with the demolitions, you have had multiple fires in the same building."
Long-term effort
Across the Northeast and throughout the Midwest, cities are coping with abandoned property rates averaging 15 percent, according to Joe Schilling, a professor at the Metropolitan Institute of Virginia Tech and the founder of the National Vacant Properties Campaign.
"Most of these communities are shrinking — that means they have lost anywhere from 25 [percent] to 50 percent of their population," said Schilling. "They still have roughly the same amount of housing units, it's just that they're all vacant and abandoned."
Former industrial cities are crying out for the healing powers of the wrecking ball, said Schilling, but they're far behind. In most cases, a blight-control program should have begun 20 years ago, Schilling said.
"The hope behind the demolition is that it is really a right-sizing strategy to kind of stabilize part of the neighborhood or community," said Schilling.
If cities don't move quickly, he said, their inner-ring suburbs will begin fall prey to the same urban decay that has been so devastating to the central city.
Some cities are tackling their blight problems with greater urgency than Youngstown, Schilling said. The city of Philadelphia borrowed against municipal bonds to fund a project to rid its terrain of 25,000 excess buildings. The city of Buffalo, N.Y., recently launched a $100 million campaign to demolish 5,000 buildings in five years.
But the effort takes patience and investment, Schilling said.
"You have to be thinking long-term. Once you get rid of the blight and abandonment, it's going to be a signal, not only to the residents, but to the business community."
Fewer people leaving
Meanwhile, demographics point to at least one encouraging trend for the city — it appears the exodus is slowing.
The Census Bureau estimates Youngstown's population has declined a mere .03 percent since 2000. This compared with losses of about 15 percent between 1990 and 2000.
Mahoning County saw a nearly 3 percent population loss during the same period. Meanwhile, Cleveland hemorrhaged more than 7 percent of its population.
The city has been redistributing vacant lots left behind by Damiano's crews through its land bank program.
Some 800 city lots have been transferred from they city's land back to homeowners and nonprofit organizations in the last several years, said Karen Perkins of the city's planning department. The majority were the site of recent demolitions, she said.
The land bank program allows residents to assume the property for the bargain price of $1, plus the cost of recording fees.
No figures are currently available that indicate how much green space has been created since the 2010 plan was released. Nor is there data that tracks new land-use patterns. That information won't be available until the next census in 2010, said city planner Anthony Kobak. When that becomes available, the city intends to begin the planning process from the beginning.
Looking to the future
Despite the emphasis placed on demolition portion of the 2010 plan, Mayor Williams and other public figures are cautious about what can be achieved at the hands of a bulldozer.
"Rome wasn't built in a day, and this isn't going to happen in a day," said Damiano. "It took 30 years or so for the place to get bad."
Still, by the year 2010, Damiano is hopeful blight will be under control. Then, he hopes his department can shift its focus toward housing code enforcement.
"We're making some real progress. [By 2010], I think, a lot of the major blight will be gone," he said. "But there will always be some."
aschmitt@vindy.com