Residents begin their effort to take back neighborhoods
Fifty percent of Youngstown residents feel unsafe in their neighborhoods at night, a 2004 study said.
By ANGIE SCHMITT
VINDICATOR STAFF WRITER
YOUNGSTOWN — The wooded roads that wind along Mill Creek Park on Youngstown's South Side were once home to some of the city's most prestigious families.
To some extent, they still are.
Many of the city's grandest mansions remain here, in much of their original glory, along the park's eastern border. Top attorneys, university professors and city leaders still inhabit this sliver of paradise, tucked behind a densely populated maze of blocks west of Glenwood Avenue.
"It's the best-kept secret since sliced bread," said Chuck Tranum, 62, a retired Army sergeant and longtime resident of Volney Road. "They used to describe it as the town that time forgot because the crime just passed us by."
But all is not well in paradise.
Just blocks away, Glenwood Avenue has come to be known as one of the meanest commercial corridors in the city. Its side streets encroach toward the park, speckled with dilapidated houses, picked over for scrap.
Concerns about crime resonate from every corner of this neighborhood — known to residents as Idora, for its proximity to the former amusement park by that name. Last fall, there was a murder and a shooting blocks from Tranum's home.
2010: Idora Block Watch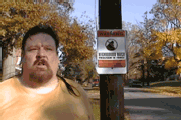 Video
James London and other citizens on 2010 and the Idora Block Watch.
So tensions were running high when city planner Anthony Kobak arrived in Idora in September with plans to begin a micro-level revitalization. As many as 40 residents from the blocks between Canfield Road, Old Furnace, the park and Glenwood Avenue turned out to hear about the city's plans for their community.
Idora is one of 127 neighborhoods Kobak has identified across the city. Last year, he set out to develop an individual recovery plan in each one.
The neighborhood planning concept was an original aim of the Youngstown 2010 comprehensive plan.
Today however, that effort is just beginning.
Quality of life
In a 2004 study conducted by Youngstown State University, nearly 20 percent of Youngstown residents rated their neighborhood quality of life as "poor." About 50 percent of Youngstown residents said they felt unsafe in their neighborhoods at night. Almost 23 percent reported they had been a victim of, or witnessed, a crime in the year prior.
Deborah Mower moved to the city from Washington state last summer to teach at Youngstown State University. Mower said she was attracted to Idora for its proximity to the park. She wishes, however, her neighbors felt safe enough to get out and enjoy the setting.
"Everyone's worried about crime, that's the biggest issue," she said. "Even in the eight months I've been here, I've been seeing a lot of changes on the side streets."
Kobak and a team of volunteers arrived in Idora with suggestions such as establishing a historical district and developing design standards for Glenwood Avenue. Kobak hopes that formal historical recognition will boost property values and that design standards will lead to a more uniform look for the neighborhood's signature thoroughfare.
In addition, Kobak hopes the neighborhood planning effort will lead to the formation of community groups. He is promising to deliver city services such as demolitions and additional police patrols in return.
The Garden District
Idora is one of just seven city neighborhoods to have begun the street-level planning process outlined in Youngstown 2010. In December, city council approved a draft for the first neighborhood plan, designed for a near West Side neighborhood bordered by Fellows Riverside Gardens.
Known as the Garden District, this neighborhood was the site of several planning meetings last fall.
But there's a great deal of skepticism among longtime residents such as Kathy Bohecker. According to Bohecker, the neighborhood is plagued by irresponsible renters and vacant houses. Though Fellows Riverside Gardens has purchased a number of blighted properties, the neighborhood continues to decline, she said.
"People are just up and leaving," she said. "It's getting kind of sad here."
Garden District residents wanted to know how the improvements to their neighborhood would be funded. Kobak replied that he had no concrete budget.
"Every year the city has a $100 million budget," he said. "It's a matter of priorities."
The Garden District, as well as Idora, received a "transitional" rating. The label, given by planning staff, is the middle designation of five ranging from "stable" to "redevelopment."
About 100 of Idora's 750 houses are vacant, said Kobak. It is by no means the city's worst. Housing values in Idora are higher than the citywide average.
About 7 percent of the Garden District's housing stock is vacant. The median construction date of a home in this neighborhood is 1939. Since 1990, the average price of housing dipped 1.5 percent, according to the 2000 Census.
Addressing crime
According to YSU's neighborhood satisfaction survey, almost 6 in 10 respondents said the city of Youngstown was not doing enough to improve quality of life in their neighborhoods. Respondents cried out for increased police presence, housing code enforcement and demolitions.
Crime is an overwhelming concern among city residents, said Kobak.
When The Vindicator spoke with special education teacher Abdul Harris, Sr. in December, he was exasperated by the lawlessness that pervaded his East Side neighborhood, where no planning effort has been scheduled. He said, the area — between Albert Street and U.S. Route 422 — was overrun by drug dealers and their customers, operating out of the abandoned properties that checker the neighborhood. Harris is uncomfortable allowing his seven children to play outside unsupervised.
"We're tired of being held hostage in our own backyards," he said.
In January, however, Harris took heart in the sight of two "drug houses" being raided. He has a new sense of optimism for his community.
Last year, Williams increased the police overtime budget by 29 percent to finance a Zero Tolerance initiative, which demands officers flood the streets, stopping drivers for minor traffic infractions. Officers employ searches for contraband and perform records checks, hoping to net potentially dangerous criminals.
The method helped former Mayor George McKelvey reduce the homicide rate by almost 50 percent in 2003. Amid Williams' Zero Tolerance effort last year, the murder rate reached a nine-year-high of 39.
Despite the climbing murder rate, by late January Harris was encouraged. The Vice Squad raided two drug houses near his home, he said.
"We do tip our hats to the vice, street crime unit that came out and are indeed, trying to rid the neighborhood of these thugs, punks, rogues, mules," he said. "We are ready to reclaim our block back, and declare it safe again."
Blight fight accelerates
Youngstown residents are troubled as well by the effect blight continues to have on city neighborhoods.
In YSU's survey, about 38 percent of city residents listed housing conditions as the leading problem in their neighborhood. But since 2005 — as part of the 2010 plan — the city has devoted unprecedented resources to demolition. As a result, almost 1,000 buildings have been leveled, said Demolition Supervisor Mike Damiano.
South Side resident Mary Hunt is pleased with the results.
The demolition of two abandoned buildings near her South Side home seems to have subdued some criminal activity, she said. What remains to emerge is a renewed commitment to maintenance, Hunt said.
"I'd like to see [my neighbors] take more pride in their property," she said.
In 2005, the city established a housing court to try derelict property owners and tenants.
But Damiano said his department has had little success persuading residents to invest in their property, while blighted properties continue to attract crime and depress property values.
Damiano said enforcing the city's housing codes will remain a secondary concern until the abandoned-building situation is under control. He hopes that will be the case by 2010.
21 years to go?
Meanwhile, Kobak has a difficult time making predictions as to what will be the overall condition of Youngstown's neighborhoods in 2010. He hopes neighborhood planning efforts will increase property values and entice families to move to the city.
Dan Crouse, of the Volpini Realty Group, said the tactics Kobak is recommending for Youngstown neighborhoods are proven value-boosters.
"If you had a walkable, breathable place in the city, then people would move back there," he said. "The exodus of the Valley is really the result of the failure of what they're trying to do with the 2010 plan."
Kobak has a long road ahead, however. If he continues at his current pace, the neighborhood planning process will take 21 years to complete.
Despite his limited staff, financial means and the magnitude of the work that lies ahead, Kobak remains resolute.
"Our goal is 30 [neighborhoods] a year," he said.
Even in Idora, much work remains. Next, Kobak will condense information gathered from Idora residents and prepare a plan designed to draw on the area's assets and address its challenges.
Once each plan is complete, it will largely be up to community residents to carry out its objectives, Kobak said.
Already, however, there is evidence that the desired result is taking shape, he said.
Several citizens have taken it upon themselves to revitalize Wick Park, an effort organizer Phil Kidd hopes will restore stability to the surrounding neighborhood. Meanwhile, as many as 60 Idora residents have been cooperating to form a block watch and community group called the Idora Neighborhood Association.
"It's such a good neighborhood. The people are good," said Volney Road resident Jim London, block watch captain. "Maybe we just need a little direction and a little help."
By the end of their first meeting, the mood among Idora residents was exuberant. A sign-up sheet for the block watch was circulating, and a neighborhood cleanup day had been planned.
"It's our tax money. It's our street. Let's take them back," said Tranum.
His neighbors responded with applause.
aschmitt@vindy.com