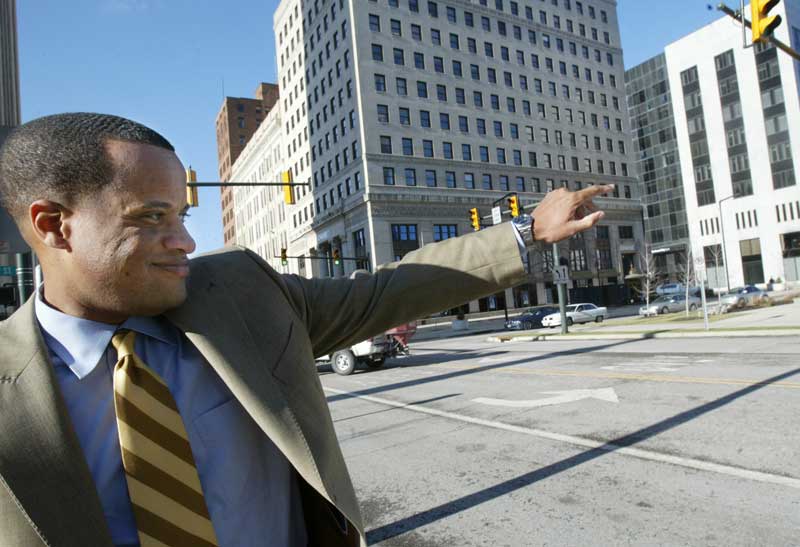 ---
Crime reduction remains the mayor's top priority.
By DAVID SKOLNICK
CITY HALL REPORTER
YOUNGSTOWN — A cold evening inside one of the city's most historic buildings more than five years ago inspired Youngstown Mayor Jay Williams to make history.
As director of the city's Community Development Agency, Williams served as a main organizer for the Dec. 16, 2002, unveiling of the Youngstown 2010 comprehensive plan. The event at Stambaugh Auditorium attracted about 1,000 people to discuss the plan, which outlines the development of the city.
As the process continued, Williams became the face and voice of Youngstown 2010, impressing people with his knowledge, enthusiasm and ability to articulate the project's goals.
"After the 2010 process initiated, I became very passionate about (it)," Williams said. "It was through my involvement and participation in that process that I became inspired to run."
Before that, Williams, who began serving as CDA director in October 2000, said he had no plan to run for mayor.
Williams had left a promising banking career to become CDA director.
He said he saw his city's potential to be revitalized and wanted to be part of the process, specifically improving economic and neighborhood development.
Seeing others excited by the process and involved in the plan was why he ran in the 2005 mayoral election, Williams said.
His victory over five opponents was historic in two ways: He became the first black person ever elected Youngstown mayor and the first independent candidate to hold the seat in about 80 years.
Dr. David Sweet, Youngstown State University president, who was involved in the 2010 planning, said he could see Williams had great leadership skills.
"He was articulate and had a vision and a commitment to the city," Sweet said. "He was the perfect person for the planning process. ... As a result of 2010, he listened to the public, and going neighborhood to neighborhood, he clearly got a great assessment of the issues."
As a city employee hired through the civil service process, Williams couldn't keep his CDA director job and run for mayor. So he resigned in May 2005.
Difficult circumstances
The most notable candidate Williams defeated in the 2005 general election was state Rep. Robert F. Hagan, then a state senator who emerged as the victor in a seven-man Democratic primary.
Despite a campaign that was bitter at times, Hagan said the pair enjoy a strong professional relationship.
"He's doing a commendable job under the circumstances," Hagan said.
Those circumstances include an increase in the murder rate last year, Hagan said, as well as problems that face other urban cities in Northeast Ohio such as neighborhood decline, predatory lending, foreclosures and bankruptcies.
"It's a struggle," Hagan said. "Northeast Ohio is struggling more than the rest of the state, and Ohio is struggling more than the nation. He tries to do the best he can."
Since taking office Jan. 1, 2006, Williams said crime reduction is his top priority. If crime is out of control, it brings down the quality of life in the city and drives away businesses and economic development, he reasons.
It's been something Williams has had to deal with constantly.
Before Williams could move into the mayor's office, the city had two murders in the first two days of that month.
There were 32 murders in 2006, two fewer than in 2005, and 39 in 2007. The city didn't get off to a good start this year. Six people, including four young children, were killed Jan. 23 in an arson.
Williams has expressed outrage at brazen killings and has become an outspoken critic of black-on-black crime.
Under his watch, the city implemented a zero-tolerance program in 2007 that featured saturated police presence, with the assistance of other law enforcement agencies, in certain areas during certain times of the year. Williams wants to use other crime-prevention programs that have succeeded in other cities to tackle this issue here, and expects to have something in place this year.
How Williams has addressed crime is the top criticism of his detractors.
"He came up riding on a clean-up-crime train, but it either derailed or hasn't left the station," said Abdul Harris, an East Side resident who works as a special education teacher at Eagle Heights Academy and is a community activist.
But Councilwoman Carol Rimedio-Righetti, D-4th, said Williams is working hard to decrease crime.
"He's trying desperately to address safety issues," she said. "Safety remains the biggest problem. Anyone in that position would be facing the same issue."
Another challenge Williams faces is regionalization.
Regionalization effort
In the weeks before he took office, Williams met with officials from surrounding communities to talk about regionalization. Though Williams didn't give specifics, the concept was embraced by those in the nearby suburbs.
That all changed in August 2006 when Williams and the city approved a $100,000 contract to have a Cleveland firm conduct a water system study. The plan is to collect income tax in certain suburban areas with the trade-off being a reduction in water rates. The study, panned by most suburban officials, was supposed to be done by November 2006.
In a December 2006 interview, Williams said he wanted to see one successful agreement with at least one surrounding community in 2007. But the study's release date has been repeatedly postponed. Williams said the study should be out later this year.
Reducing blight
With Williams as mayor, the city aggressively stepped up its efforts to demolish vacant buildings. In his first two years in office, the city demolished 925 structures, mostly residential houses, at a cost of about $2.5 million. The city did a small fraction of that amount in previous years.
Williams said the demolitions help stabilize neighborhoods by eliminating blight and places for illegal activities. It also improves the physical appearance of the community, he said.
"He's received some criticism on the money for demolitions, but when I see him, I tell him to spend more," said the Rev. Edward P. Noga, pastor of St. Patrick's Church and a member of numerous civic groups in the city. "There's a marked improvement in the removal of eyesores that have been that way for 20 years. It's money well spent."
The housing demolitions are a key component of the Youngstown 2010 program that calls for the city to accept that its population has shrunk so it should take down the dilapidated structures and replace it with green space.
The concept has received national media attention from USA Today, The New York Times Magazine, The Wall Street Journal, as well as several government-related magazines and has won national awards. Williams won the prestigious New Frontier Award in November 2007 from The John F. Kennedy Library Foundation and Harvard Institute of Politics, primarily for the program.
As mayor, Williams has also had to deal with the city-owned Chevrolet Centre. The facility, built primarily with federal money, has failed to turn a profit in its two-plus years. This past October, the city ended its management agreement with Global Entertainment Corp. of Phoenix, hired a temporary replacement and is in the process of finding a permanent group.
There is no guarantee another company can turn the center's finances around, Williams said, but the facility brings thousands of people into the city and adds to the region's quality of life.
One of Williams' priorities is to make sure the center "doesn't become an economic albatross." If it becomes that, the mayor says, a "for sale" sign will go on the center.
Political power
With only one incumbent, Rimedio-Righetti, from the last council, Williams sees his role in city government somewhat shifting.
"As mayor, I was the rookie elected official in Youngstown," he said. "Maybe we didn't always agree, but there wasn't a whole lot of animosity or lack of productivity. We worked very well."
With the new council, Williams said there's a "different dynamic" with his having more elected years than a majority of those on council.
"I'm looking forward to establishing a strong working relationship," Williams said. "We'll have our agreements and disagreements, our hits and misses, but I think the process will" be successful.
Though Williams was a political novice before he ran for mayor, he's become politically active since then.
Though he laughs off the importance of his support on the state and federal levels, he endorsed Ted Strickland for governor in 2006 (he won), and is endorsing U.S. Sen. Barack Obama for president. Both endorsements were touted by the candidates.
On the local level, he strongly backed charter amendments to strip much of the city's park and recreation commission's power and the city school district's tax levy in November 2007. Three of the four amendments easily passed, but the school levy failed.
Williams said neither the park amendments nor the school levy were indications of his political power. People had called for the park changes, he said, and although the school levy is important, Williams said he wasn't at all surprised it didn't pass.
If the park amendments had failed, Williams said that would have been a strong statement against him.
Williams, who plans to run for re-election in 2009, said he's received overwhelming support from residents. The mayor said the letters and messages he receives from city residents that support him outweigh 10-to-1 the critical ones he receives.
skolnick@vindy.com
More like this from vindy.com