Innocent pleas in fire deaths
Arraignment of Michael Davis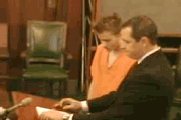 Video
Arraignment of Michael Davis
The judge entered the pleas for the defendant.
THE VINDICATOR
By PETER H. MILLIKEN
VINDICATOR STAFF WRITER
YOUNGSTOWN — Following his lawyer's instructions, Michael A. Davis stood silently before the judge during his arraignment on aggravated murder and aggravated arson charges.
Citing his "serious concerns" about Davis' competency, defense lawyer Martin E. Yavorcik said he told Davis to enter no plea and make no statement Friday.
Judge Timothy E. Franken of Mahoning County Common Pleas Court then entered innocent pleas for Davis on all 29 counts in Thursday's county grand jury indictment.
Davis, 18, of Bennington Avenue, faces the death penalty in the Jan. 23 house fire at 1645 Stewart Ave., which killed six people, including four children. Authorities are calling the blaze the largest mass murder in the city's history. Six deputy sheriffs guarded the courtroom during the arraignment.
Yavorcik told Judge Franken he doesn't believe Davis understands the charges against him. Yavorcik said his client can't read, and that he read the indictment to him. Yavorcik submitted to Judge Franken a city school evaluation document saying Davis is "borderline mentally retarded."
Judge Franken said he would set no bond for Davis, who is being held in solitary confinement in the county jail, and that he would leave the matter of bond to the judge who will conduct the trial.
Under the court's random case-assignment system, the case was sent to the courtroom of Judge R. Scott Krichbaum, where a pretrial hearing will be at 1:30 p.m. Tuesday.
Judge Franken said Judge Krichbaum would appoint a lead defense lawyer for Davis. Yavorcik can serve as co-counsel, but he isn't one of the three Mahoning County lawyers who are state-certified to be lead counsel in death-penalty cases.
Yavorcik said he would ask Judge Krichbaum to order a mental competency evaluation for Davis.
"It'll, in all probability, delay any trial, which is OK," county Prosecutor Paul J. Gains said of the competency evaluation. "We want to make sure this defendant receives a fair trial."
Yavorcik said after court that he urged his client to stand silent to protect his legal interests. If his client had spoken in court or acknowledged any aspect of the case, the state could use that to bolster a claim that he is competent, Yavorcik explained.
milliken@vindy.com