Celebrating Kwanzaa values Observers appreciate benefits of economic teamwork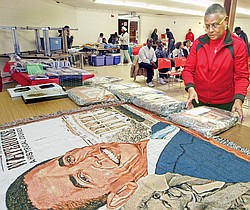 Photo
WORK OF ART: Marsha Dykes of Girard displays tapestry throws she had for sale at a Kwanzaa event at the Buckeye Elks on North Avenue in Youngstown. The event was Monday night. The merchandise featured the likeness of President-elect Barack Obama and other black American history makers.
The event was in recognition of one of the seven principles of the holiday.
YOUNGSTOWN — Several dozen residents of the city and surrounding communities gathered for a Kwanzaa celebration that took a slight deviation from the norm.
Kwanzaa is a weeklong holiday honoring African-American heritage. It is observed from Dec. 26 to Jan. 1.
Kwanzaa consists of seven days of celebration, each day representing a different cultural value. It was created by Ron Karenga of California and was first celebrated from Dec. 26, 1966, to Jan. 1, 1967.
People gathered Monday night at the Buckeye Elks Building on North Avenue to celebrate Ujamaa, which means cooperative economics.
Kenneth King of Youngstown, a community activist, historian and former radio personality known as "Brother K," said cooperative economics is important particularly in the black community because businesses receiving that economic support can then support charitable causes important to blacks.
This, he said, is an important aspect of community building.
"If we are to build a better community, we cannot do that by spending money outside the community. We can only do this by spending money inside our own communities," he said.
As if to emphasize King's point, vendors were on hand selling various types of merchandise such as throw tapestries, books, calendars and CDs.
Brother Lewis Muhammad of Muhammad Study Group No. 9 said the cooperative economic lessons learned during Ujamaa have become increasingly meaningful in light of what is happening in the country economically.
"The general theme of our discussion is preparedness. With the economic downturn, all of the talk about the economy, the history of the Great Depression and things happening in various communities across the country, we need to deal with our responsibility for ourselves as a community," he said. "It is better to be prepared and nothing happen, than unprepared and something happens."
Muhammad deviated from the more common speaker-driven dialogue form of Kwanzaa recognition and encouraged those attending to participate in a dialogue about what things are currently available in the community to facilitate economic strength.
He said a fresh idea could be hidden in the collective mind of the community and waiting to be coaxed out.
Participants were seated in a circle with each person contributing a thought or idea related to cooperative economics or general community building.
Some declared education as a means to achievement, while others re-emphasized the importance of keeping funds in the community, but everyone centered on preparedness for economic hard times in the community.
Muhammad said dialogues such as those seen during Kwanzaa are necessary on a more regular basis to keep the community focused and informed.
"Our young people may be caught up in the cable television or hip-hop, and everyone has their own burden to bear and may not be paying attention, so it's important to interface and try to keep the community informed," he said.
The evening's activities were sponsored by Muhammad Study Group No. 9 and the Sankofa project, which, according to its Web site, www.The Sankofa.org, is an international movement of empowerment and self-improvement. Sankofa means "to return to the past in order to go forward."
jgoodwin@vindy.com