Youngstown man accepted into Mensa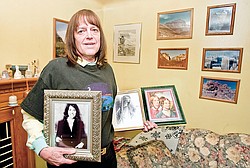 Photo
Phillip Lyle displays images of his musical and literary inspirations, (left-right) Karen Carpenter, in addition to Anne, Emily, and Charlotte Brontë, in his Youngstown home. Lyle recently became a member of Mensa.
Reading and classical music provide great foundations for intelligence, the man said.
YOUNGSTOWN — Of the hundreds of books in Phillip Lyle's home, one in particular stands out among the rest.
"The Bible for Dummies" sits sideways on a shelf in his living room, surrounded by dictionaries, literature, special interest books and a few classics. As the name implies, "The Bible for Dummies" explains in clear English what you'll find in the real Bible, with easy-to-use maps, pictures and charts.
Of all the words you could use to describe the 58-year-old, "dummy" is clearly not one of them. Lyle is a genius of sorts and was recently accepted into Mensa International, an organization for bright folks.
Lyle, of Susan Circle on the city's West Side, called the Mensa test the hardest he's come across. "It was devious, it was unsettling, it was relentless," he said, "but I never felt overwhelmed."
Mensa, formed in England in 1946 to provide members a forum for intellectual exchange, accepts those with IQ's in the top 2 percent of the population. To qualify, prospective members must pass a Mensa test or other approved intelligence test.
Lyle said the test's five sections included math, logic, science, analogies and sequential concepts. Each section had 24 questions that had to be answered in five minutes.
Reading materials in Lyle's living room include an atlas, Smithsonian Magazine, copies of The Vindicator and "Jane Eyre," which he calls "the best book I've ever read." He keeps a copy of the Dictionary of Cultural Literacy nearby but uses it for more than reference — he reads it like a book. He said he's read at least 2,000 books in his lifetime.
From a young age, reading and classical music were emphasized by his parents and the priests and nuns at school. Both provided him a great foundation for learning, he said. Lyle attended St. Christine School and Ursuline High School, where he was in the marching band.
"Both of my parents had bachelor's degrees," he said, noting that was not common at the time. "We grew up in a home where education was valued and high standards were expected."
He's lived in Oregon, California, New Mexico and Ecuador, where he did a teaching internship at an American school. In 1997, he served in the Peace Corps in Namibia but left in less than a year when a fellow corps member contracted HIV after being sexually assaulted while sunbathing. He too was the target of three violent attacks while serving there and said unrest in the country was to blame.
Lyle speaks English, Spanish, Latin and Rukwangali, the native Namibian language. He plays the trumpet, guitar and sings every Friday at Irish Bob's pub. Much of his music is centered on the hits of The Carpenters.
His role models are author Charlotte Bront ´ and singer Karen Carpenter, whose music he calls "part of the mosaic of our lives."
Lyle has a bachelor's degree in psychology from The Ohio State University and was a law student at McGeorge School of Law in Sacramento but didn't finish.
He worked for Pacific Bell in Sacramento for several years, climbing poles and working on telephone lines. After the company downsized, Lyle said he decided to get a master's degree in elementary education from Kent State University. He was a substitute teacher in Youngstown city schools for a time.
Lyle, who is divorced and lives in his boyhood home, said he decided early on he wasn't going to have a "normal" life. He describes himself as "outward bound," "outgoing," "sensitive to other people's realities" and determined to live a full life.
One thing that has remained constant, he said, are the principles he's guided by. "My values have always stayed constant." He stops short of calling himself a genius, saying "That's often about how others perceive you."
Lyle has a mind-over-matter attitude when it comes to his life. By charting a course and learning to redefine himself, he's been able to lose 100 pounds in the last three years. "I just decided to stop being that person," he said.
Lyle considers himself semi-retired and plans to focus on his music and regional and local Mensa meetings. "I just want to get in there and talk to some bright-eyed people," he said.
Richard DeMattia of Kent is the president of Mensa's East Central Ohio Chapter. The group encompasses 14 counties, including Mahoning, Trumbull and Columbiana, and has 350 members. The chapter meets monthly.
"Our membership covers the full spectrum of all interests and abilities," he said, explaining some have general intelligence while others have savant-type brains, which narrow in on certain areas of expertise. For more information on the local chapter, visit the Mensa Web site www.mensa.org
Lyle is also excited about the future of American politics and says he can't wait to see what President-elect Barack Obama can do to restore the country. "After hitting the mute button for the last eight years [under President George W. Bush's administration], we have a Harvard Law mind in there," he said.
SEE ALSO: Minds of Mensa.