Bridal show offers wedding options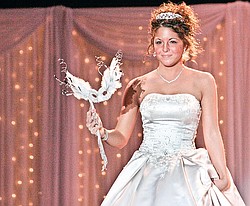 Photo
Jana Davis of Niles participates in the 25th Bridal Show presented by Evaline's Bridal at Chevrolet Centre Saturday December 27, 2008
The new location drew from areas not previously represented at the show.
YOUNGSTOWN — Brides-to-be face many decisions about their big day.
What to wear? What food to serve? How to preserve memories of the day?
Those are just a few. But options galore greeted visitors to Evaline's Bridal 25th annual bridal show Saturday at the Chevrolet Centre.
About 40 vendors showed off flowers, served cake and food samples and displayed video examples for future brides and their fianc s, families and friends while music from bands, a harpist and a guitarist filled the arena.
The show offered everything a bride needs to put a wedding together, said Lori Dubasik, owner of Evaline's in Warren.
Although the event is traditionally held the first Sunday in January, Dubasik decided to change the date.
"For our customers, it was fantastic, because they're off work, their fianc s are home, their families are home," she said.
She also chose a new location for the event previously held at the MetroPlex in Liberty.
"You can draw crowds from a lot of different areas [to the Chevy Centre], Dubasik said. "So we got people from Warren, we've got people from Poland, we've got them from Pittsburgh and Sharon, Pa."
Canfield High School sweethearts Heather Humeniuk and Kevin Reeves, who now live in Columbus, attended the event while in the area for the holidays.
"We don't live in the area, so coming to these things when we're home for the holidays is nice," Humeniuk said. "We're already home, so it's convenient."
The couple, engaged since January, plan an October 2009 wedding in Youngstown. They have attended other bridal shows and are now in the process of finalizing their plans.
Both were impressed with the wide variety of options at Saturday's show.
"I think since we had so much time to plan it, it hasn't been very hectic," Humeniuk said. "And it's been going pretty smoothly. This kind of helps narrow things down."
When planning a wedding, brides-to-be immediately think of gowns, flowers, photographs, food, invitations and other traditional items.
But vendors at the show also offered options that don't leap to mind as quickly. Teeth whitening, cosmetic surgery and tanning booths were side-by-side with photographers, caterers and DJs.
"It always looks nice to have a little bit of tan with your wedding gown," said Linda Good of Tahiti Tanning.
Others are bringing wedding planning into the computer age. Lisa Spadaford of Website by Lisa offers brides- and grooms-to-be the option of creating a wedding Web site.
"You usually would keep it for six to nine months," she said. "Like six months before your wedding and three months after."
The site is customized for each couple and can include a slide show of engagement photos, links to hotels for out-of-town guests, online RSVPs and wedding photos.