---
Sunday, December 28, 2008
Arson victims funeral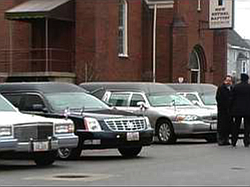 Video
Hundreds attend funeral services for the victims of the Jan. 23 arson, Carol Crawford, 46, her daughter Jennifer R. Crawford, 23, and Jennifer's four children, Ranaisha, 8, Jeannine, 5, Alisha , 3, and Brandon, 2.
The Kaluza Verdict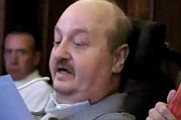 Video
Adams Verdict: Guilty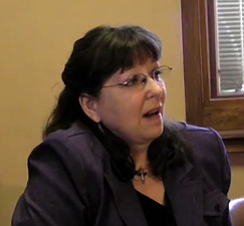 Video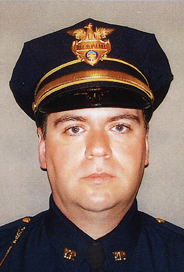 Photo
Robert Deichman YPD offficer killed in traffic accident
1 A fast-moving fire trapped four children, along with their mother and grandmother, upstairs at 1645 Stewart Ave. on Youngstown's East Side — and all perished at 5:30 a.m. Jan. 23. A neighbor, Michael A. Davis, 18, was convicted following this arson and sentenced to life in prison.
2 KFC manager Joe Kaluza was paralyzed after being shot in the neck during the robbery of a $300 bank deposit on March 24 in Youngstown. The two robbers are in prison.
3 On Oct. 22, seven dead and 12 starving dogs were found at High Caliber K-9, a kennel on Coitsville-Hubbard Road in Youngstown. Steve Croley, the operator, will be sentenced next month for animal cruelty.
4 On Oct. 30, Bennie L. Adams, 51, was sentenced to death for raping and strangling YSU student Gina Tenney to death in December 1985. The cold case was solved with DNA evidence in late 2007.
5 Youngstown Detective Sgt. Rob Deichman, a 40-year-old accident investigator, drove drunk at 3:20 a.m. on June 19 and died when his city-owned car collided with the side of a semitrailer on the West Side.
6 In late July, Youngstown Mayor Jay Williams was talked out of firing Patrolmen Michael Brindisi and Stephen Price, who made up their own quitting time during an overnight shift on June 14. Each was suspended for 30 days without pay. The mayor said he took wise counsel and input from his chief of staff, chief of police and staff inspector.
7 Terrance Tate, 23, who beat a 1-year-old boy to death, escaped a death penalty trial by pleading guilty to involuntary manslaughter on Nov. 7. He was sentenced to 15 years in prison. The murder happened in April 2006.
8 On Aug. 12, Fred DeVengencie, 90, owner of Freddie's Diner on North Park Avenue in Warren, was shot to death during a robbery; his son was wounded. Ardeed I. Mitchell, 28, of Youngstown, faces a capital murder trial in March.
9 Columbiana Sheriff Dave Smith pleaded guilty to drunken driving April 18. He announced his resignation as sheriff effective Aug. 31 to take a position at Mountaineer Race Track Gaming Casino in Newell, W.Va. The arrest took place in Guernsey County on Oct. 11, 2007, after a Buckeye State Sheriffs' Association meeting.
10 In May, Ronald Machado, 21, hanged himself in a cell at the Trumbull County jail, where he was being held pending transfer to Pennsylvania for trial in a stabbing death. Machado and Krystie Weater, both of Fowler Township, were charged with killing 44-year-old Thomas Lorigan of Jamestown, Pa., at a woman's apartment in Greenville.