Former AG says the Ohio inspector general has a 'clear bias' against him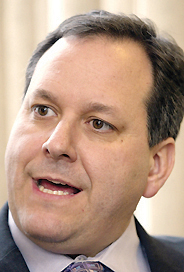 Photo
Former Ohio Attorney General Marc Dann
The former attorney general says the Ohio inspector general has a 'clear bias' against him.
Though mistakes were made during his short tenure as attorney general, Marc Dann said, a state inspector general's report on the agency under his watch is "filled with innuendo rather than fact."
The report, released Monday, states that Dann, "a cadre of his former senior managers and a handful of employees" turned the "office of the 'people's lawyer' into a house of scandal."
Dann fired back Monday, saying that Inspector General Thomas P. Charles has a "clear bias" against him, and the two "never had a good relationship."
Charles listed 25 acts of wrongdoing by Dann, some of his closest friends in the attorney general's office, and his wife, Alyssa Lenhoff.
The report accuses Dann and the others of improperly using money from the state, his campaign fund and a transition corporation he established shortly after his improbable victory in the 2006 election for attorney general.
"Regrettably, Marc Dann used his position as attorney general to indulge himself, his family and his friends," Charles wrote in the report.
As part of the investigation, the Ohio auditor also conducted a special audit of the attorney general's office under Dann's watch identifying 175 expenditures, totaling $3.66 million, for further examination. That report states the attorney general's office under Dann bought 99 new vehicles, totaling $1.94 million, with 14 of them, at a cost of about $310,000, paid from an "unallowable funding source."
Among the purchases questioned by Charles from Dann's campaign and transition funds are $12,263.47 paid to a dinnerware sales company owned by his wife, Lenhoff; $9,955 directly to her; and $3,182 to one of her company's suppliers.
"It is inconceivable that the payment made to Zesty Dishes was anything other than a personal use of Dann's campaign account," Charles wrote.
The purchases were for dinnerware, dried fruits, jellies and jams given as gifts to supporters, donors and volunteers, which is legal and appropriate, Dann and Lenhoff said.
Buying the items from Lenhoff's business and the supplier, Dann said, was less expensive than buying them elsewhere.
"We could get better prices," Lenhoff said. "I made zero profit. I could buy them wholesale."
Lenhoff said the $9,955 was a reimbursement to her for other such purchases.
Dann refused to talk to the inspector general. Lenhoff said she would have been willing to discuss the questions raised about her involvement in the investigation but a letter was never sent asking for her cooperation.
Dann resigned under pressure May 14 after an internal attorney general report criticized the office for cronyism and a lack of professionalism.
Dann also admitted having an affair with Jessica Utovich, his then-scheduler.
"The last seven months have been difficult for me," Lenhoff said. "Overall, it's a really sad time for me and has been for me for a really long time. Marc did some things that were horrendous and hurtful to me."
But what Charles did with this report — questioning money given to her as well as the improper use of cell phones and free travel by her and her children — was worse, Lenhoff said.
"There is innuendo, half-truths that paint us in a way that's absolutely unforgivable."
In the report, Charles wrote that there were "two other curiosities" involving Lenhoff and the M&R Land Co., a company owned by Michael Harshman, Dann's attorney and confidant.
The first was $10,000 given to Lenhoff. She and Harshman said she borrowed the money in April for her business. Lenhoff added that she's paid back a portion of the loan.
Another charge was that Dann's campaign account wrote a $2,480 check to M&R, deposited March 6. During that same month, Lenhoff made five cash deposits to her and Dann's personal bank account for that exact amount, Charles said.
Harshman said the two events are not related.
Lenhoff said she didn't think she made that deposit amount, and added that the two aren't connected in any way.
The report also questions a $50,000 check to Harshman by Dann's campaign fund May 14, the day Dann resigned as attorney general.
Harshman said that he wasn't sure about the date of the check but that it was after May 14.
The $50,000 was for legal work Harshman did for Dann for a five-week period before, during and after the attorney general's resignation.
The report states the check was deposited into Harshman's personal account instead of his business account, and no explanation of the check was given.
"To the best of my knowledge, it was to the M&R Land account," Harshman said.
Harshman said he and Dann discussed a price for his legal services and agreed on the $50,000 amount.
"For five weeks of my life I didn't do anything else" except provide legal advice to Dann, Harshman said.
Harshman sent an e-mail statement to Dann for the legal fees, but said the hours aren't itemized on the bill.
"I'm concerned about illegalities," Harshman said. "I don't see anything illegal in [the report]. I'm not saying I'm happy with everything in the report."
Dann also said he didn't do anything illegal.
The report was forwarded to numerous agencies for investigation including the IRS, the Franklin County Prosecutor's Office, the Columbus City Attorney's Office, the Ohio Department of Taxation, the Ohio Supreme Court's disciplinary counsel, the Ohio Elections Commission and the Ohio Ethics Commission.
Charles criticized the working conditions at the attorney general's office while Dann was in charge.
The office was "marked by abusive and vulgar language, excessive flirtatiousness and a failure by Dann and other managers to maintain professional boundaries," Charles wrote. "Dann hired into his office a coterie of young women who were dubbed 'the Dannettes.' So unprofessional was the dress and conduct of some of these women that a project assistant in the office was assigned to conduct etiquette classes for them."
Among "the Dannettes," was Utovich, Charles wrote.
Dann said he never heard that nickname for women in his office and that it's an insult to refer to them in that way.
Also, Charles criticized a $40,610.28 security system at Dann's house in Liberty.
"We are left to conclude that Dann used his campaign account to fund a major capital improvement for his home," Charles wrote.
He also questioned why new windows were installed at Dann's home because the owner of the security company installing the system said the existing windows were adequate.
During the investigation, Charles said he learned that Anthony Gutierrez, a close friend of Dann's and his director of general services, instructed the contractor installing the windows to add $5,000 to the bill.
Gutierrez then instructed the contractor to write three checks to three creditors to whom Gutierrez's company, MTV Construction, owed money, according to the report.
Dann said that is the only new item to emerge from the lengthy investigation and that he had no idea Gutierrez did that.
Gutierrez couldn't be reached Monday to comment.
Dann also said Monday that his home in Liberty is no longer for sale.
The report also accuses Leo Jennings III, another close friend of Dann's and his communications director, of wrongdoing.
The report states that Dann made "consulting fee payments" to Jennings from his campaign fund to pay for a condominium in Dublin shared by the two along with Gutierrez.
"It is clear that the consulting fee payments to Jennings were nothing more than a way to misappropriate campaign funds for personal use," Charles wrote.
Jennings couldn't be reached Monday to comment. Dann denied the allegation.
The report accused Jennings of engaging in "unprofessional conduct," including an affair he had with Jennifer Urban, an assistant attorney general, who acknowledged the relationship.
Charles added that inappropriate behavior by Jennings, who is married, wasn't limited to the affair with Urban.
"We found a number of sexually explicit e-mails on his state computer," Charles wrote.
skolnick@vindy.com