Ex-Attorney General Dann says complaints filed against him by state officials are false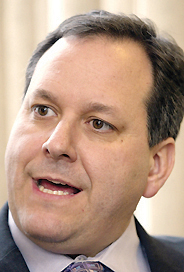 Photo
Former Ohio Attorney General Marc Dann
COLUMBUS (AP) — Former Attorney General Marc Dann has responded to two complaints filed against him by state officials this week, contending the allegations in both are false.
In a Friday e-mail, Dann also suggested that portions of the complaints have no basis in law.
"We are going to vigorously litigate this issue and win," Dann said Friday.
One complaint, filed by Ohio Inspector General Thomas Charles, alleges improper campaign spending that included air travel and lodging for Dann's family, cell phones and other expenditures.
The inspector general said his investigation centered on the time from Jan. 7, 2007, when Dann took office as attorney general, until Dann's resignation on May 14, 2008.
Charles' complaint also says Dann used campaign funds to purchase snacks, beverages and fast food almost daily, and listed expenditures for consulting services that were actually for other purposes, including paying a staffer to keep campaign account books.
The other, earlier complaint, filed by Ohio Secretary of State Jennifer Brunner, accuses Dann of misspending about $45,000 in campaign funds on security improvements at his home and cellular phone charges used for campaign activity and personal use by Dann and his family.
Officials with the Ohio Elections Commission have said the commission will address both complaints in a session Jan. 22. All parties will be notified and given the opportunity to file responses, said the commission's executive director Philip Richter.
Dann resigned amid a sexual harassment scandal in his office. He won election in 2006, part of the Democratic party's near-sweep of statewide offices long held by Republicans.