Sponsors recognize YSU autism center

Photo
FAMILY SUPPORT: The Nosek family of Berlin Center attends the holiday party for The RIch Center at Weather Tite Windows in Liberty. The family thanks the center for helping 7-year-old Caden Nosek, who has an autism spectrum disorder, learn to better communicate. Standing are mother Kimberly Nosek, holding her daughter Avrie, and relative Gale Saunders. Sitting in front of them are Becky Burnett, holding her granddaughters Zoey, and Caden.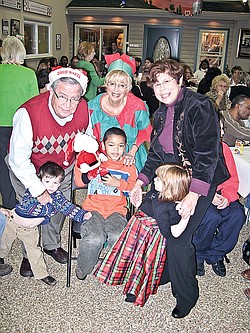 Photo
FOR THE KIDS: Children, parents and staff of The Rich Center for Autism enjoy food, music and seasonal fun at the third annual holiday party sponsored by Merv and Marlene Hollaner. Merv Hollander, his wife, Marlene, and Bernadette Kovach share in the fun with center pupils, from left, Colin Brogan, Nathan Tucker and Ellie Brogan.
A Howland couple shares their good fortune with others.
LIBERTY — Guests walking into the Weather Tite Windows here could have easily mistaken the sales floor for a playground Friday afternoon, as small children darted around one another and filled the room with audible enthusiasm.
Hosting the third annual winter party in his company's showroom, Merv Hollander, and with his wife, Marlene, of Howland, welcomed more than 150 guests, including almost 50 children.
There was something noticeable, however, as you took a closer look at the guests: Few of the children were playing with one another. Most of them have an autism spectrum disorder, and this party was to recognize how the Rich Center for Autism at Youngstown State University has helped them.
A combination of a research, academic and community service organization, the center works to give children with ASD a chance at learning and growing like everyone else.
The children, along with their parents and several center staff members, had a chance to sit back and enjoy themselves for a couple of hours Friday. And Merv and Marlene Hollander provided everything.
A juggling clown, gleeful elves and Santa made rounds through the group of jumpy children. Food stations offered some common childhood delights: pizza, macaroni and cheese, chicken nuggets and a wealth of sweets.
For the past three years, the Hollanders have sponsored parties for the center. And in those years, children, their families and center staff come for food and entertainment.
"The party is good for the children," says Patty Fisher, a teacher at the Rich Center. "And it's good for the parents to see their children having fun."
Fisher teaches reading, math and social studies.
The National Institute of Mental Health Web site classifies individuals with ASD as having "varying degrees of impairment in communication skills, social interactions and restricted, repetitive and stereotyped patterns of behavior."
Children with autism may avoid eye contact with others, seem unaware of speech directed at them, have trouble adapting to change and have unusual reactions to the people and objects around them.
Six-year-old Dylan Miller of Brookfield doesn't speak at all.
While he sits at a table with his grandmother Carol O'Rourke, he holds his arms up and taps his fingers to his thumbs while he muses at his new Nintendo DS video game. He was diagnosed as having an ASD three years ago, after his grandmother noticed he didn't make eye contact. Until then, O'Rourke thought he might be deaf.
O'Rourke says the changes in Dylan are noticeable since he has been at the center.
"The teachers say he's doing well, and that he's much smarter than we really thought," she says, adding that she hopes the programs will help Dylan to someday take care of himself and begin to communicate better.
Providing academic, research and public service programs in the Valley, the Rich Center's mission is to be recognized nationally for its work with autism. The center offers classes not only for children such as Dylan who struggle to function on their own, but classes for college students interested in education and behavior services related to ASD.
In 2007, the Centers for Disease Control and Prevention in Atlanta found that one in 150 children are diagnosed with an autism spectrum disorder by age 8, based on a study of several communities in the United States. The CDC estimates that as many as 560,000 people under age 21 have an ASD.
For parents such as Kimberly Nosek, making sure her son gets the help he needs is top priority.
That's why she drives 35 minutes from her home in Berlin Center to the Rich Center on Youngstown's North Side.
Her son, 7-year-old Caden, presented symptoms of ASD when he would regularly hide from others around their home, was strict about the foods he'd eat and screamed uncontrollably.
"He does really well at the center now," says Nosek, who sits beside her two other children, a newborn and a toddler.
She says Caden's classes are helping him to speak and even use a computer with some proficiency. Because of his difficulty communicating, Nosek expects her son to rely on a computer, with picture keys, to speak for him. For now, however, Caden can say his name and address — a big success for him.
With a brief moment aside, Merv Hollander explains why he and his wife put on the event each year.
"Let me show you what this means to me," he says, walking off the showroom floor to his office.
Facing a framed picture on his wall, he counts, "One, two, three, four, five," as he points out his dapper grandchildren in suits and dresses.
"Five grandchildren, and they're all healthy," he says with a smile. "We're just happy for what we have, and when you have as much as we do, you're supposed to share it," Merv Hollander explains.
And he isn't alone in his support of the center.
Several hundred thousand dollars in private funding has been committed to the Rich Center in 2008, since the not-for-profit organization is not financially supported by the university. And earlier this year, the center received more than $421,000 in grant money from the U.S. Department of Education to develop online classes that will aid parents and instructors to tailor their teaching styles to the needs of autistic children.
Midway through the event, before Santa sat down to meet with the children one on one, Georgia Backus, the center director, presented the Hollanders with a massive wreath decorated with pictures of the children helped through the center.
"There are no gifts we could give you to thank you enough," Backus said to the couple.
The Rich Center was established in 1995 by a joint effort of the Ricchiuti, Kosar and Rubino families, and is dedicated to the memory of Paula and Anthony Rich, who died in a 1994 plane crash.
sschroeder@vindy.com