Cleanup collaborative enlists cooperation from landlord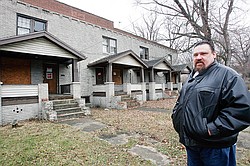 Photo
James London outside The empty six plex at 1002 -1006 Parkview in Youngstown on the demolition list part of Mark King Properties
By KATIE SEMINARA
MVOC and block watch groups met with a landlord in their attempt to eliminate blight in some Youngstown neighborhoods.
YOUNGSTOWN — Broken windows and doors, rusted propane tanks and stacks of tires and garbage on vacant properties are all-too-common sights in some Youngstown neighborhoods.
With so many houses unfit for occupation, crime transpires.
The Mahoning Valley Organizing Collaborative, whose focus is to clean up neighborhoods in Youngstown and Warren with the help of other community organizations, recently set sights on battling the plagues in certain areas, taking aim at some problem landlords.
Officials from the U.S. Census Bureau estimate Youngstown has about 8,400 vacant housing units.
Engaging landlords in neighborhood cleanups is in its infancy. Mack Properties is one on a list of other local landlords and was put on top because of the number of properties in need of demolition.
It was a show of "good faith" that Mark King, owner of Mack Properties, attended a recent meeting arranged by MVOC, said Christine Silvestri of the Boulevard Park Block Watch and the 7th Ward Citizens Coalition.
The meeting was the second chance for King to sign an agreement prepared by MVOC and other community groups concerning those properties vacant or in disrepair. At a private meeting Monday, King signed the agreement on grounds that some clauses were altered, according to MVOC.
"For us to get a community agreement signed was a big accomplishment," said Silvestri.
"It's like baby steps, but it's more than what we had," she said.
King has been a landlord in Youngstown for 20 years and owns more than 250 properties in the city.
King, per the agreement, agreed to demolish four properties in town within one month and also that he will meet monthly with MVOC and community group leaders for the next three months and then quarterly thereafter.
The group first met to discuss King's properties Nov. 20. King did not attend.
At that meeting, residents who live near dilapidated properties owned by King discussed their concerns, and a slide show detailed some properties on a list of 29 that should be torn down — a recommendation supported by MVOC and community groups.
"We have to hold these landlords accountable," James London, president of the Idora Neighborhood Association, has said.
London said the agreement with King gave him a "positive outlook."
"We're communicating," said London, who hopes one of the four properties to come down is a property on Parkview Avenue in his neighborhood.
"[King] said he would demo four and it took us a long time to get to that," said London, referring to the changes in the agreement.
Originally the goal was to get King's consent to pay for demolition of the 29 vacant and abandoned properties. Of the recommended properties to be demolished, 13 have been processed for demolition by the city.
"Being processed does not necessarily mean they will be demolished — just that the owner was notified to repair or raze," said Jean Schaefer, rehab assistant for the city's demolition department.
The city has cut back on the number of demos in the past year to about 215 structures, whereas in 2006 and 2007 Youngstown demolished a total of about 1,100 properties.
Next year, Youngstown is slated to receive $2.7 million to use as part of the Neighborhood Stabilization Program through the Department of Housing and Urban Development. A portion of that money will go toward demolition and should bring the numbers back up, said Sean McKinney, commissioner of building and grounds for the demolition department.
Of the 250 properties he owns, King said at most 10 percent are in disrepair and that's due to crime and vandalism.
"The biggest thing that has beat up my property is crime," said King.
"I know as a property owner it's my responsibility to clean it up, but it's hard to battle thieves," he said of the reason so many properties have fallen below livable standards.
It's a cycle of a property becoming vacant, then getting stripped of copper pipes, water heaters, front doors and siding, therefore leaving it not suitable to rent, said King.
"I'm fully in favor of neighborhood watch groups because they help stunt the growth of crime," he said.
The community watch groups don't deny crime plays a role in creating substandard housing, as well as problem tenants, but they want King to be serious about the terms of the agreement.
"We our one community, one unit, and we mean this. He needs to be committed," said Silvestri.
"These are real basic things I do in the first place," said King of some of the agreement's conditions.
Paying for his own demolitions, tenant screenings and evicting problem tenants are standards for Mack Properties, he said, noting that he evicts six to 10 tenants a month.
"Maybe [Mack Properties'] screening process needs to be better," said London.
"You can't take care of what you have, so why are you still buying properties?" said Silvestri.
King most recently bought a property on Florida Street on Dec. 5, according to records at the Mahoning County auditor's Web site.
He said he buys new properties in better areas to offset or replace rundown properties.
"Why not sell the properties recently bought and use the money to demo the bad ones," suggested London of how King can eliminate more than four problem lots.
SEE ALSO: MVOC's tips for landlords.
More like this from vindy.com