Body-dragging suspect free on bond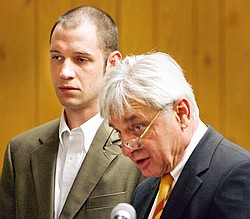 Photo
Bryce D. Burke, 27, left, was sentenced to three years in prison for the death of Andrew Culp, 22, of Columbiana. Burke's car rolled over Culp at a South Side fast-food restaurant in 2007, and Burke dragged Culp underneath the car about two blocks. This picture of Burke and his lawyer J. Gerald Ingram was taken in 2008 at Burke's arraignment in Youngstown Municipal Court.
More charges are 'highly unlikely,' a prosecutor said.
STAFF REPORT
YOUNGSTOWN — The dragging death of a Columbiana man was a horrible accident up until the point Bryce D. Burke was told there was a body under his car and fled; then it became criminal, a city prosecutor said.
Prosecutor Jay Macejko said Tuesday that it's "highly unlikely" that Burke, now charged with felony failure to stop after an accident, will face any additional charges, even after a coroner's report on the death of Andrew Culp is released. Culp, 22, of North Main Street, Columbiana, was found in the westbound lane of Midlothian Boulevard near Euclid Boulevard on Nov. 29 and died from his injuries, police believe.
Burke, 26, of Mercedes Place, Canfield, came to municipal court Tuesday with his lawyer, J. Gerald Ingram. Judge Robert P. Milich set bond at $10,000, allowing 10 percent to be posted. Bond was posted. Burke is expected back in court today for arraignment and to have a pretrial hearing scheduled.
Dana Lantz, assistant city prosecutor, told the judge that Burke's record includes two reckless operation convictions.
Macejko said detectives believe the impact was just west of Zedaker Street and Midlothian. How Culp ended up there is still under investigation, the prosecutor said.
Burke was in the McDonald's drive-through at South Avenue and Midlothian Boulevard when another motorist told him there was a body under his car, police said. A witness called 911 and told the police dispatcher there was a body under the car in front of him. By the time police arrived, the car had gone.
Culp was found in the roadway about two blocks from the McDonald's.
Burke surrendered to detectives Dec. 1.