Cities aim to spearhead steel expansion project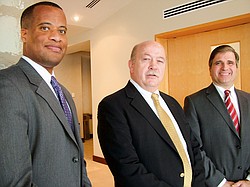 Photo
EXPANSION INCENTIVE: Posing in Columbus on Monday after a talk are, from left, Youngstown Mayor Jay Williams; Roger Lindgren, president of manufacturer V&M Star Steel; and GIrard Mayor James Melfi. Youngstown and Girard have offered incentives to V&M Star, which borders the cities, if it chooses to expand in that area.
V&M Star Steel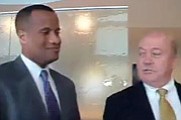 Video
The newly formed zone is centered on the growth of V&M Star Steel.
YOUNGSTOWN — Girard Mayor James Melfi says the cities of Girard and Youngstown have entered into a "marriage" made in economic heaven.
The two have created a Joint Economical Development Zone that will generate revenue for both cities and allow for the creation of jobs.
The newly formed zone is centered on the expansion of V&M Star Steel, on the border between both cities. The company is set for an expansion that will add 500 to 1,000 jobs.
Youngstown Mayor Jay Williams said Youngstown and Girard are in competition with other areas around the world to acquire the new business, and company officials have not made any final determination on whether the expansion will be located here. The two cities, however, are "doing everything asked of us and then some" to gain the project, he said.
The Ohio Tax Credit Authority OK'd tax incentives valued at an estimated $2.6 million at its Monday meeting. The board unanimously approved the 10-year, 75 percent tax credit for V&M Star Steel, with the benefit starting in January 2010.
In return, the company would commit to creating 294 full-time jobs and retaining an additional 465. The total expansion would cost upward of $600 million, and V&M would commit to maintaining operations at the site for the next 20 years.
The incentives are refundable tax credits against what the company would pay in corporate activity or income taxes, based on the state income taxes withheld on new, full-time employees.
For example, a company paying $100 in state income tax withholding for a new worker would be credited with $75 toward its other state tax obligations (commercial activity, state income or insurance premium tax liabilities), based on a 75 percent credit.
V&M Star has not yet committed to the project and is awaiting other approvals from the Ohio Environmental Protection Agency and the Public Utilities Commission of Ohio.
Area economic development officials are working to provide additional economic incentives, as well.
The company is considering a number of sites for the project. Asked by a Tax Credit Authority member when work on the expansion would begin, company President Roger Lindgren replied, "All I can tell you is that no decision has been made at this time."
But Melfi is optimistic: "We are talking about millions and millions of dollars being dropped on this area like a bomb. This whole project makes me very, very happy."
Melfi said in order for the company to expand, it needs additional land in Girard and Youngstown. The land, he said, was purchased with economic development funds from Youngstown and will be leased to the company.
Williams said he is "very optimistic about what this means for the future of the communities in terms of really setting aside those parochial differences, getting beyond those past turf battles and border battles, because ultimately, if this project comes to fruition, it will be as impactful to the Mahoning Valley as anything we've seen probably in the past 20 years or so."
Williams added that the tax credit approval was a "significant step in the right direction as it relates to bringing jobs to our respective communities and ultimately the Mahoning Valley. ... V&M is one of the largest contributors to the city of Youngstown's economic base, and these are quality jobs that you aren't seeing being outsourced to other countries. And the fact that they have made a commitment in the past to the city of Youngstown and the city of Girard and [are] at least giving some strong consideration to a significant investment is extremely important."
Melfi and Williams said employees hired at the company will pay income taxes into the JEDZ at the Youngstown tax rate of 2.75 percent.
Those tax dollars would then be divided between the two cities every quarter.
Youngstown is set to supply the facility with water, collecting profit from the sale of that water. Girard will supply sewer service to the facility, collecting profit from those fees.
A JEDZ is an agreement similar to a Joint Economic Development District.
The difference is that a JEDZ is between two municipalities while a JEDD is an agreement between a municipality and an unincorporated area, such as a township.
Melfi said an added bonus for the area is a large-scale office building to be added to the site in the future. That building, he said, will be built on the company's grounds visible from U.S. Route 422.
The entire project is slated to be worth between $750 million and $900 million. Melfi is hopeful the project will top the $1 billion dollar mark with future construction and growth.
Melfi, Williams, Walter Good from the Regional Chamber and T. Sharon Woodberry, Youngstown's economic development director, also attended Monday's meeting.
V&M Star manufactures seamless steel tubes used mostly in the oil and gas industry.
According to documents filed with the Ohio Environmental Protection Agency, the company is considering an upgrade and expansion that would increase its liquid steel production by more than two-thirds the current capacity, to 1.4 million from 830,000 now.
"A second pipe mill is also planned to increase production from the facility and make smaller diameter seamless pipe for a variety of markets not currently served," according to documents.
The company has been in discussions with state officials for months, including weekly contact with the Ohio EPA. Gov. Ted Strickland has met personally with company representatives.
Williams and Melfi have called the potential project "transformational" and among the biggest economic development opportunities for the Valley in decades.
"In the city of Girard, we have been in fiscal emergency since 2001," Melfi said.
"This business locating in our area would simply put us back on the map, would give us great opportunity and [would] really open up the southern part of 422 to further development."
Steve Schoeny, director of the strategic business investment division of the Ohio Department of Development, thanked the company on behalf of the state for considering the Youngstown/Girard site.
"It's a fantastic project," he said. "It's fantastic cooperation. I have yet to find anything not to like about the project."
XCONTRIBUTOR: Vindicator correspondent Marc Kovac in Columbus.