By Bob Jackson
VFW post reflects on impact of '41 attack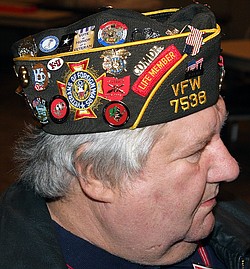 Photo
PAYING TRIBUTE: Veteran Jerry Arendas of Coitsville, who served in the Vietnam War, attends Mass at St. Christine Church in Youngstown to commemorate the 67th anniversary of the attack on Pearl Harbor.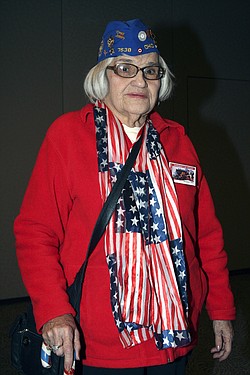 Photo
SUPPORTIVE: Dorothy McLaughlin, who lost her husband in the Battle of the BUlge in World War II, joined the veterans at St. Christine Church on Sunday.
Veterans said events such as the one Sunday are critical for preserving history and keeping it alive.
YOUNGSTOWN — John E. Malys was just 12 years old the day Pearl Harbor was bombed by Japanese forces, too young to truly appreciate the magnitude of that infamous day.
"I remember hearing it on the radio, but I was too young to understand," said Malys, now 77 and commander of the Veterans of Foreign Wars Post 1423. "I just remember wondering, 'What's Pearl Harbor?' But my mother was worried. She knew her sons would have to go."
Indeed, when the United States entered into World War II, four of Malys' brothers went off to battle. They all survived, but one was seriously wounded.
"That was a terrible day," Malys said of Dec. 7, 1941. "We can't forget it."
That's why Malys and some two dozen other local military veterans were at St. Christine Church on South Schenley Avenue Sunday morning for an annual Mass to remember what happened at Pearl Harbor.
The VFW has the Mass each year, always at a different church.
"By this memorial Mass, we are honoring the men and women who sacrificed their lives at Pearl Harbor," Malys said. "We hope and pray for peace around the world."
During the Mass, the Rev. Father Peter Haladej spoke of how Americans often live their lives around a calendar, trying to carefully and fully plan their lives far in advance, and how a sudden, unexpected event can upset those plans.
"The presence of our veterans here today reminds us that no matter how much we try to plan our lives down to the last detail, sometimes we have to adapt and change," he said.
Malys served in the Air Force during the Korean War and now lives in Boardman. He said only two local survivors of the Pearl Harbor attack remain, although neither of them attended Sunday's Mass.
The fact that the number of veterans who actually served during those wartime years is constantly shrinking makes events such as Sunday's memorial Mass ever more critical, one veteran said.
"People have a tendency to forget history," said Richard Mitchells, 77, of Greenford. "Young people don't seem to know the history of things that have happened in this country. You've got to keep it alive."
Mitchells said schools don't seem to stress the importance of events such as Pearl Harbor and other military conflicts any longer, so it's up to veterans and military organizations such as the VFW to carry the flag.
But even that has grown more difficult because so many older veterans have died and very few younger ones are joining the ranks of the VFW and other military organizations.
"I know that they have so many other things going on, so many demands on their time," Mitchells said. "But we hope that as they grow older, they'll realize the importance of getting involved and helping keep the message alive."
Mitchells, who served in the Marine Corps from 1950-1954, said he was also just a boy when the Pearl Harbor attack happened, but he remembers hearing about it.
"I was on my way to church," he said. "I was too young to really understand, but I remember that for everyone around me there was somewhat of a stunned feeling. Everyone was asking why it happened."
Thomas Rudnicki, 90, of Youngstown joined the Army in 1942 and served a four-year stretch. He lived on South Avenue at the time of the Pearl Harbor attack and recalled having to go to a barber shop on the city's South Side to sign up for military service.
"I was lucky," he said, noting that he was able to remain in the United States as a clerical specialist throughout his service, while his brothers and friends were off fighting in combat. One brother was shot down over Germany and was held there as a prisoner of war for several months before he was freed.
After the Mass, several members of the church congregation shook hands with the veterans and thanked them for their service.
"We can't ever forget," Malys said.