Plea deal made in dead dog case
Steve Croley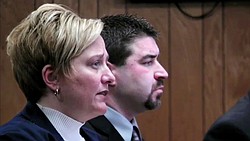 Video
Steve Croley in Youngstown Municipal Court
Deadly Kennel Vandalized

Gallery
Steven Croley's Youngstown home on State Route 616 was vandalized following his arrest on Thursday, October 23, 2008 for several counts of animal cruelty. The festering carcasses of seven dead dogs were found in cages on the premises where Croley ran his business, High Caliber K-9. Photos by Daniel C. Britt.

Photo
The prosecutor said animal cruelty is a felony in 45 states, but not Ohio.
YOUNGSTOWN — A plea agreement recommends four months in jail for the man who operated High Caliber K-9, where seven dead and 12 starving dogs were found.
Steve Croley, 38, of Struthers-Coitsville Road, Lowellville, pleaded no contest Thursday afternoon in municipal court to four counts of animal cruelty. The case had been set for a Dec. 18 trial. Two housing violations related to the condition of the High Caliber K-9 property at 1516 Coitsville-Hubbard Road were dismissed.
City Prosecutor Jay Macejko said the plea agreement calls for 30 days in jail on each count; restitution of $1,646 to Animal Charity, a humane agency on South Avenue that rescued dogs from the property; and a provision that Croley not own or harbor animals during whatever probation period — one to five years — that may be imposed.
Judge Robert A. Douglas Jr. told Croley, who is represented by Youngstown attorney Heidi Hanni, that the potential penalty for each count is up to 90 days in jail and $750 fine. Croley said, "Yes, your honor," to acknowledge he understood his plea meant he waived his right to a trial.
The judge ordered a pre-sentence investigation and set sentencing for Jan. 22.
"The court recognizes there were losses in this matter," Judge Douglas said. A restitution amount that includes estimates from the four dogs' owners will be included, he said.
Restitution applies only to the four dead dogs for which Croley was charged, Macejko said. Letters were sent to the owners, one in California, one in Germany and two in Youngstown.
Croley was originally arrested on 19 counts of animal cruelty but only four were filed. Macejko determined that the High Caliber K-9 property was illegally entered by representatives of Animal Charity, who used bolt cutters to cut a fence. The four counts relate to dogs seen before the fence was breached. The prosecutor has said had he been called, he would have obtained a search warrant.
When taken into custody Oct. 22, Croley told a representative of Animal Charity that he could not afford to feed the animals. Since the arrest, dog owners have come forward to say they paid Croley in advance.
Macejko said Thursday that Judge Douglas could sentence Croley to more time than worked out in the plea agreement. If that happens, Croley could withdraw his plea and the case could proceed to trial, the prosecutor said.
Macejko said he is working with Mayor Jay Williams and will send letters to encourage state legislators to elevate animal cruelty, now a misdemeanor, to a felony. He said the crime is a felony in 45 states.
meade@vindy.com
More like this from vindy.com