Plea deal would bring 4 months in jail for animal cruelty
Steve Croley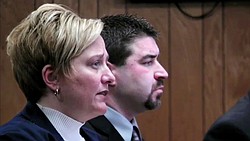 Video
Steve Croley in Youngstown Municipal Court
YOUNGSTOWN — A plea agreement recommends four months in jail for the man who operated High Caliber K-9, where seven dead and 12 starving dogs were found.
Steve Croley, 38, of Struthers-Coitsville Road, Lowellville pleaded no contest Thursday afternoon in municipal court to four counts of animal cruelty. Two housing violations related to the condition of the High Caliber K-9 property at 1516 Coitsville-Hubbard Road were dismissed.
City Prosecutor Jay Macejko said the plea agreement calls for 30 days in jail on each count; restitution of $1,646 to Animal Charity, a humane agency on South Avenue; and a provision that Croley not own or harbor animals during whatever probation period — one to five years — that may be imposed.
Croley will be sentenced Jan. 22.
Read more in Friday's Vindicator and Vindy.com
More like this from vindy.com