Crime-fighting technology spots trouble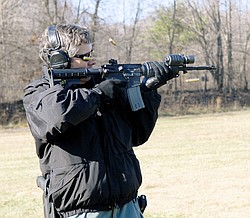 Photo
READY, AIM: Lt. Robin Lees, commander of Mahoning Valley Law Enforcement Task Force, fires downrange to help demonstrate the ShotSpotter gunshot location system.
The system that detects real-time gunfire could be in place by summer.
YOUNGSTOWN — Picture a city street displayed on a police dispatcher's computer screen, and red dots that pinpoint where two thugs opened fire just seconds ago.
No one in the neighborhood has to call 911 to report the gunfire.
Technology called ShotSpotter zeroes in on the precise location, sends the information to the dispatcher and sounds an alert. The alert grabs the busy dispatcher's attention.
Using a Global Positioning System and audio sensors, ShotSpotter provides "wide-area acoustical surveillance for things that go boom," said Gregg Rowland, senior vice president of the gunshot location system. The system works in real time, round the clock, to detect explosions and gunfire and allows for rapid response by police, he said, noting some departments have officers assigned to roving ShotSpotter details.
Rowland explained the technology on Wednesday to Mayor Jay Williams and police at the Youngstown Rifle and Pistol Club on Shaffer Road in North Jackson. ShotSpotter sensors — tiny microphones — are hidden on top of buildings such as schools and fire stations, he said.
For a practical application of the system, sensors were deployed on the gun club range and Lt. Robin Lees, commander of the Mahoning Valley Law Enforcement Task Force, fired a .223-caliber assault rifle.
His single shots showed up as small red dots on laptop computers that displayed a camera view of the range. When he fired multiple rounds in quick succession, the dots got bigger.
When asked if the technology can detect gunfire inside a building, Rowland said: "It depends, if windows are open, if the bullet travels outside the house."
Shots fired outside can be detected up to 1 1/2 miles away from the sensors, he said.
The technology also has the ability to determine direction of travel in a drive-by shooting. ShotSpotter increases the rate of witness location and decreases investigative time by getting more witnesses involved, Rowland said.
Williams said U.S. Rep. Tim Ryan of Niles, D-17th, obtained a $530,000 U.S. Department of Justice grant for technology to be used in high-crime areas. If ShotSpotter is purchased, it may be paired with video surveillance cameras.
The cost is roughly $250,000 for each square mile ShotSpotter covers. Williams said that, depending on money available, he'd like to see three square miles covered.
The mayor first wants to visit a city such as Gary, Ind., that has had ShotSpotter for several years and get feedback from police there. If all goes well, the technology could be in place by summer, he said.
Rowland, meanwhile, said knowing precisely where shots have been fired saves the time it often takes police to locate a crime scene once someone has reported hearing gunfire. Also, he said statistics show that 60 percent to 80 percent of gunshots are not reported so having ShotSpotter in place can let police know of criminal activity as it happens.
"We save a life almost once a week," Rowland said. "The system provides victim location and rapid medical response."
Training, Rowland said, is only two to three hours for dispatchers. A lot of time is spent with command staff, patrol officers, detectives and crime lab technicians, he said.
meade@vindy.com
More like this from vindy.com