Young Penguins need to grow up quickly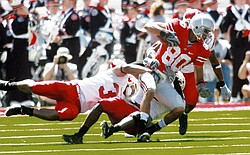 Photo
2007 Penguins-Buckeyes game
By Pete Mollica
Eleven underclassmen will start, nine of them for the first time Saturday.
YOUNGSTOWN — A very young Youngstown State football team will have to grow up in a hurry Saturday when the Penguins open their season against the second-ranked Ohio State Buckeyes.
Kickoff is noon at Ohio Stadium. The game will be televised live on the Big Ten Network, which was recently picked up locally by Time Warner.
The Penguins will start 11 underclassmen against the Buckeyes and nine will make their first collegiate start.
In their first meeting last season, the Buckeyes walked away with a hard-fought 38-6 victory.
YSU's eighth-year coach Jon Heacock is excited about the season starting and making the trip to Columbus.
"I've felt very good about our fall camp this year and the kids have worked very hard preparing for this season," Heacock said. "We still have concerns, but the way these kids have prepared themselves will give us a chance at having great success this year.
"We know that it is going to take a tremendous effort this weekend and we expect our guys to go out there and block and tackle and no jumping offsides and do the fundamental things well like they have been doing in practice."
YSU must avoid turnovers, he said.
"Who we play doesn't have anything to do with the way we take care of the football," he said. "We learned a lot the first time we were down there a year ago. Most of our players will know how to handle the venue, but we'll still have some youngsters there who have never seen it."
One of the Penguins' biggest concerns is at quarterback, where junior Todd Rowan (6-3, 215), a LaBrae High standout, will make his first career start.
Rowan spent the last two seasons as a backup to veteran Tom Zetts and saw little playing time, other than holding for placement kicks on field goals and extra points. He's thrown just two passes in his two seasons.
The Penguins have good depth at most positions — including quarterback, where junior transfer Brandon Summers (6-0, 210) will back up Rowan. Summers, who transferred from the University of Toledo, started five games as a redshirt freshman for the Rockets.
The quarterbacks will operate out of a new no-huddle, spread formation behind a veteran offensive line that has both size and depth.
Senior center Brad Samsa (6-3, 290) anchors that line and is a three-year starter, while other returning starters include senior tackle Tyler Booth (6-6, 315) and sophomore tackle Bobby Coates (6-4, 300) and senior guard Nhemie Theodore (6-3, 315). The other starter at guard is sophomore Eric Rodemoyer (6-3, 310), a former Kennedy Catholic standout who transferred from West Virginia after starting six games as a redshirt freshman for the Mountaineers.
Rowan and Summers have some talented receivers led by senior Ferlando Williams (6-0, 195), senior Da'Michael Horne (5-11, 185), junior Aaron Pitts (6-2, 185) and junior transfer Donald Jones (6-0 200).
They also have one of the top tight ends in the Football Championship Subdivision in senior Derrick Bush (6-4, 275).
Running backs have been banged up much of the fall camp. Junior Jabari Scott has survived the ordeal and is the No. 1 tailback going into the opener. Last year's top rusher, senior Kevin Smith, has been injured and is not expected to play Saturday.
Defensively, the Penguins will be strong again on the front line, which is led by All-American senior Mychal Savage (6-2, 305). The linebackers, who are making their first starts, are seniors Mike Barlak and Nate Ward and sophomore Jordan Edwards, who moved over from offense.
The secondary boasts veterans at both cornerbacks in senior Jarvis Richards and junior Lenny Wicks. Senior De'Angelo Wilson, a starter last year has been slowed by an injury, but will play some Saturday.
The Penguins will also be without three-year veteran place kicker Brian Palmer. The Mineral Ridge High standout suffered a herniated disc in his back and has been responding to treatment and medication, but isn't expected to play against the Buckeyes.
Sophomore Stephen Blose, who a year ago kicked his only field goal (a 41-yarder) against OSU, will handle both kickoffs and placements.
SEE ALSO:Youngstown State-Ohio State notebook.