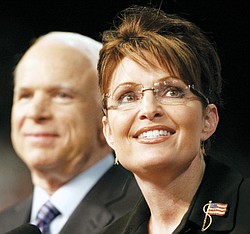 AP Photo

Photo
GOP TICKET: Presumptive Republican presidential nominee Sen. John McCain smiles after introducing his running mate, Alaska Gov. Sarah Palin, in Dayton.
DENVER (AP) - John McCain tapped little-known Alaska Gov. Sarah Palin to be his vice presidential running mate, two senior campaign officials told The Associated Press on Friday.
A formal announcement was expected within a few hours at a campaign rally in swing-state Ohio.
Palin, 44, is a self-styled hockey mom and political reformer who has been governor of her state less than two years.
Palin's selection was a stunning surprise, as McCain passed over many other better known prospects, some of whom had been the subject of intense speculation for weeks or months.
At 44, she is a generation younger that Sen. Joseph Biden of Delaware, who is Barack Obama's running mate on the Democratic ticket.
She is three years Obama's junior, as well — and McCain has made much in recent weeks of Obama's relative lack of experience in foreign policy and defense matters.