Sword swallowers work on edge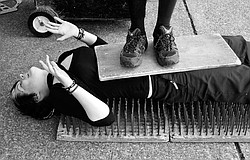 Photo
Elena Sellentin, 20, visiting from Germany performs at the North side farmers market, Saturday, August 23, 2008. Daniel C. Britt.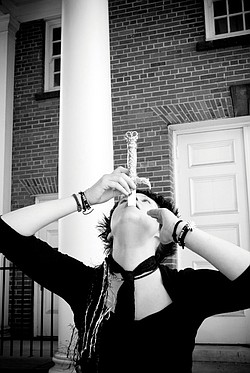 Photo
Elena Sellentin, 20, of Germany performs at the North side farmers market, Saturday, August 23, 2008. Daniel C. Britt.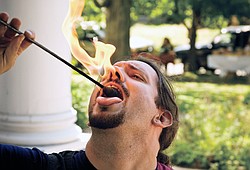 Photo
Travis Fessler, 35, plays with fire at the North side farmers market, Saturday, August 23, 2008. Daniel C. Britt.
By Bob Jackson
The Cincinnati-area man said performances like the one he gave Saturday are a dying art.
YOUNGSTOWN — Travis Fessler doesn't have just your everyday, punch-the-clock, 9-to-5 job.
He swallows swords, eats and breathes fire, lies on a bed of nails, snaps flowers from his lovely assistant's fingers and mouth with the tip of a whip. And just for good measure, he hammers nails into his nostrils.
It's all in a day's work for the 35-year-old performer from Florence, Ky., which is just across the river from Cincinnati. He travels the country with his brother, Frack, performing under the name The Pickled Brothers Sideshow.
He was in Youngstown on Saturday, performing for visitors to the farmers market that takes place each weekend on the city's North Side. His brother was not able to attend because of other commitments.
Instead, Fessler was joined by a friend, 20-year-old Elena Sellentin, a college student from Germany who is visiting America for a month.
Fessler was to perform today at the ruKus Festival in Warren, and will do shows Monday at Youngstown State University.
"It's kind of a dying art," he said of the routines he has performed for the past 10 years. "There are only maybe a few dozen [sword swallowers] left in the world."
Fessler said the acts he performs were once part of a sideshow when P.T. Barnum and James Bailey first began traveling with circuses years ago.
"There would be a separate tent off to the side, and people would pay an extra 5 or 10 cents to go in and watch things like this," he said.
For years, even until recently, such acts would often draw huge crowds, and the breathtaking stunts done by performers would leave both young and old in awe. But the glut of shocking material available lately on television and over the Internet have taken away some of the novelty of sideshow acts.
"Kids are so jaded anymore," Fessler said. "They watch 'Jackass' and think that's entertainment."
Rather than trying to ramp up his own show and make it more "extreme" and dangerous in nature, Fessler says he tries instead to make it more family friendly and entertaining by interjecting humor into his act.
"I could get hurt just doing these things I do already," he said, pointing to the bed of rusty nails he'd laid upon only moments earlier. "The things I do are dangerous enough already."
Sellentin said she and Fessler met because of their mutual interest in sword swallowing, which she has been doing for about three years. Fessler has done it for a decade.
"I was interested in seeing how much I can get out of my body through self-control," Sellentin said, her words delivered with a thick German accent. "It was just something I was always interested in."
She said that in Germany, spectators will be enraptured as she performs, but will scatter and flee when she walks offstage toward them. That's starkly different than the reaction she's gotten here, where people will walk right up to her, or even talk to her while she is performing.
"I like it better this way," she said.
Juliana Augostone, 10, of Columbiana, was among those who attended Saturday's show with her grandmother. She cringed at the sight of the performers lying on the bed of nails, but was fascinated when they each tapped a nail into their nostrils.
"I thought it was great," said Heather Doyle of Boardman, 26. "I think the tricks they did were real."
She said her 13-month-old son, Isaiah, was enthralled by the show.
"He loved the fire and the clapping," she said.
Jim Converse, farmers market manager, said organizers try to have some sort of entertainment each week. Usually it's something more traditional, like musicians or dancers.
He said a mutual friend knew of the Pickled Brothers and that they would be in town to perform in Warren today, "So we asked them to come up a little early and perform today as well."