Mayor Williams vows to resolve water issue with Wal-Mart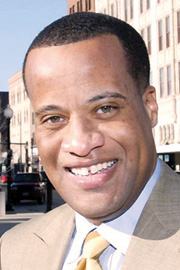 Photo
Youngstown Mayor Jay Williams
By JOHN W. GOODWIN Jr.
and DAVID SKOLNICK
VINDICATOR STAFF WRITERS
YOUNGSTOWN — Mayor Jay Williams says he expects to come to some type of agreement with Wal-Mart officials concerning water at the proposed new store location on Belmont Avenue — but Liberty Township officials will not be part of discussions leading to that resolution.
Wal-Mart representatives earlier this week expressed concern over moving forward with plans to build the store on Belmont Avenue because of a stipulation in Youngstown's contract for water services requiring the retailer to hire 25 percent of its employees from the city.
Township Administrator Pat Ungaro and Trustee Jodi Stoyak have said the city would be holding up the project with such language and should consider removing or modifying the language in the interest of getting the project completed. Williams has said the language was created when Ungaro was mayor of Youngstown and would be applied to Wal-Mart just like any other customer.
Now, Williams says he will work with Wal-Mart and Wal-Mart only to come to some resolution.
"Because of the apparent inability of some of the Liberty Township officials who have decided to deny, deflect and blame Youngstown when clearly the ball was dropped there, we are going to work directly with Wal-Mart. I'm confident that will resolve this issue."
The mayor had telephone conversations with Wal-Mart officials on Friday and Thursday. He will meet with them early next week.
"I'm confident based on conversations we've had the matter will be settled to the satisfaction of Youngstown and Wal-Mart," he said. "We'll get together and resolve an issue that should never have been an issue to begin with."
"My biggest issue is Pat Ungaro (regarding his failure to not tell Wal-Mart about the city provision) and Jodi Stoyak with the sky-is-falling" attitude, said Williams.
Stoyak said township officials have long realized that the matter is essentially out of their hands, but she is championing the completion of the project because a lot of local business is depending on it.
"As far as I am concerned, I am grateful that Mayor Williams is willing to cooperate and communicate with Wal-Mart," she said. "Future projects are pending and people have made large investments based on the Wal-Mart coming to fruition."