Valley residents turn to stoves, fireplaces to warm home, save cash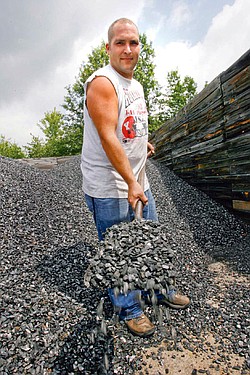 Photo
MOUNTING POSSIBILITIES: The growing demand for alternative energy sources keeps Shawn Burke of Bush's Fireplace in North Jackson busy shoveling coal.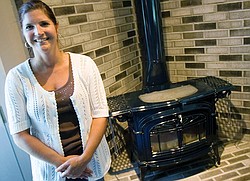 Photo
HEATING THINGS UP: Lisa O'Connell keeps her family warm in the winter with a wood-burning stove. Besides heating their home in Berlin Center, her family uses the stove to cook and even dry their gloves in the winter.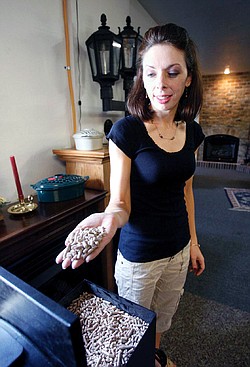 Photo
ENERGY SAVER: Bush's Fireplace store manager Lisa Silliman rifles through pellets, the fuel for wood pellet stoves.
Industry experts are predicting a back order of stoves for winter.
By HOLLY SCHOENSTEIN
WHILE MANY homeowners will be sweating expensive heating bills this winter, Lisa O'Connell will turn down the thermostat to 65 degrees and put on a tank top and gym shorts.
The Berlin Center resident has stayed warm during past cold-weather seasons while enjoying lower heating bills because an alternative fuel, something other than natural gas, heats her 2,100-square-foot home. With natural gas selling for $14.55 per mcf, which is up nearly 70 percent since January, O'Connell could be considered fortunate that her house was built when it was.
Gas lines did not reach her neighborhood and her lot was wooded, giving her access to firewood. So, while building the house six years ago, they installed a free-standing wood-burning stove. Her family has even cooked grilled cheese and dried their gloves on the stove in the winter.
Other than firewood, matches and newspapers are the only supplies needed to start a fire. The stove requires little routine maintenance, such as emptying the ash pan and cleaning the soot from the windows to see the fire.
Many people can hardly think about home heating during the summer when outdoor temperatures are in the 80s, but alternative heating unit manufacturers and retailers advise them to think again. The rising cost of natural gas has turned the heating industry upside down.
Richard Bush, owner of Bush's Fireplace in North Jackson, said if shoppers wait until the cold weather hits, some models of heating units may be out of stock. Even customers who are placing their orders now are expecting their units to be installed and delivered around November. And the longer customers wait to shop, the longer their wait time will be.
Bush's Fireplace sells free-standing anthracite coal stoves, furnaces and fireplace inserts (stoves that fit into an existing masonry fireplace) that burn wood or coal. The store may also stock wood pellet stoves, which are free-standing, automated stoves that burn pellets made of compacted sawdust, this season.
The increased demand for alternative heating units has not surprised Bush.
"I've seen this coming for 30 years; it just finally hit the fan," he said. So far, Bush's Fireplace has sold about 50 wood and anthracite coal stoves before the heating season has even started. Last season, the store sold a total of 110.
The newest coal stoves burn anthracite coal, which burns hotter and cleaner than bituminous coal, which many older stoves burn.
Scott Jones, co-owner of Youngstown Propane, Inc., said the Canfield store has also been busy this month selling and installing heating units, including stoves and fireplaces. So far this year, the company has sold at least a dozen, which Jones considers remarkable because last year was the first year the company entered the woodburning unit market. Last year, Youngstown Propane sold about 75 stoves total.
"Right now, it's gone full circle," Scott Jones said. "People are trying to save money. Most of your subdivisions around here are all gas homes, and we're finding people are trying to find alternative heating sources. With wood being very prevalent around here, people can get wood at a low cost or even for free."
Because of accurate forecasting and careful planning, some heating unit manufacturers are ahead of the curve. Hearth & Home Technologies, which manufactures products under the brand name Quadra-Fire, supplies Quadra-Fire products to Youngstown Propane and about 1,000 other fireplace and heating unit retailers throughout the world. The company is based in Colville, Wash.
"We have not had trouble keeping up," said Michael Jones, brand marketing specialist for Hearth & Home Technologies. "We anticipated the high demand; however, by the end of the year, it's possible there may be shortages [of some stoves]."
Michael Jones declined to disclose how much of an increase the company has experienced in demand for alternative heat units, but said it was significant. Six to eight months ago, it ramped up production and is now running its manufacturing facility at capacity.
Among the factors Hearth & Home Technologies used to forecast the demand for its products for the upcoming season were the cost of home heating and the cost of gasoline.
"The seasonal decline [in demand] we normally see is not there; we've been busy all year round," Michael Jones said.
Wood-pellet stoves have been leading the company's sales over the last three to four years, but wood-burning stoves have also experienced a revival.
He attributes the strong demand for wood-pellet stoves to the state of the housing industry. Gas stoves are typically part of new home construction, whereas wood-pellet stoves have been more popular with remodeling projects. As more people are choosing to remodel than to build new homes, wood-pellet stove sales have surpassed gas unit sales.
Also, Hearth & Home Technologies, along with many other alternative heating unit manufacturers and retailers, faced a similar increase in demand for wood-pellet stoves after Hurricane Katrina hit in 2006.
"After Katrina, people went crazy, and manufacturers couldn't keep up," said Marc-Antoine Cantin, president of Stove Builder International Inc. in Quebec City, Quebec, Canada. "So when manufacturers placed their orders in 2006, they ordered more because they didn't want to run out."
Retailers cleared their inventories in 2007, and now they are ordering more again for the upcoming cold-weather season of 2008.
But as the demand for wood-pellet stoves races ahead of units fueled by other sources, wood-pellet stoves are likely to have the longest lead times. Cantin predicts they may be back-ordered until March 2009.
Stove Builder specializes in wood stoves, wood fireplace inserts and high-efficiency gas stoves and gas fireplaces and claims to be among the five largest wood-burning stove manufacturers in North America with about 200 year-round manufacturing employees.
Thirty-five percent of the company's products are shipped to the U.S., and Youngstown Propane is one retailer that stocks its products.
Cantin said Stove Builder's shipments to the U.S. increased 206 percent for the first six months of 2008 compared with the first six months of 2007.
But for those who prefer heating units fueled by natural gas, some stores may still stock them because a market for them, although it is shrinking, still exists. Bush predicts that his store will sell about 20 free-standing gas stoves this heating season.
"Some people don't have the desire or ability to deal with wood or coal, and those people will stick with gas units," said Lisa Silliman, Bush's Fireplace store manager.
Youngstown Propane will even stock decorative units that are designed solely for aesthetic reasons, such as gas logs.
SEE ALSO: Heat Sources, Heat source safety and Heat Options.
hschoenstein@vindy.com