Motorcycle run with more than 1,000 riders to benefit children

Photo
Alan "Catfish" Bown of New Wilimington, Pa., attended the rally behind Mike's Lounge.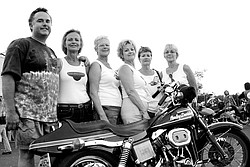 Photo
PROUD OF THEIR FATHER: Six of the seven of Fred Perry's children, from left, Troy Perry, Candy Estok, Mary Jane Hively, Nancy Martucci, Gail Figansksy and Pam Lewis, show off their father's 1974 Harrley-Davidson Superflide during the Fred Perry Benefit Motorcycle Run for Kids in Austintown.
The motorcyclists rode 75 miles in the region Sunday to benefit children.
STAFF REPORT
AUSTINTOWN — More than a thousand people took to their bikes Sunday for a charity that's 18 years old.
The Fred Perry Benefit Motorcycle Run for Kids hit the streets to raise money for local organizations and children.
Motorcyclists drove 75 miles to four locations, raising what Mary Jane Hively, a coordinator for the event, called a spectacular amount of money.
The bike run began in 1990 by Fred Perry, an area man described as passionate about motorcycles and charity. After he died the next year, his family continued the event in his honor.
This year, with 1,125 riders at $10 per person, along with the revenue from drinks and T-shirts, Hively said the event's 18th run was far more successful than last year's.
Unlike the sunny skies of Sunday, rainy weather limited participation in 2007 to only 150 riders.
The day also proved long, according to organizers.
Sunday's event began with registration at 9 a.m. Bikers rode from 1 to 4 p.m., and reconvened at Mike's Lounge in Austintown for food, drinks and music.
Around 7 p.m. Antonette Martin helped clean up the site where the event began and ended.
Martin is Fred Perry's granddaughter and has been involved in the event since the beginning. Tired, Martin said she was also satisfied with the run's turnout.
"It was a beautiful day, and the parking lots were full."
Martin said the amount raised is usually determined a few days after the event.