Vexfest V downtown cements friendships amid smashing rock
VexFest 5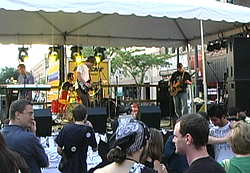 Video
VexFest 5

Gallery
YOUNGSTOWN — It was all rock, all day.
Vexfest V, the free rock festival that featured about 40 local bands, packed in a crowd on West Federal Street on Sunday.
Bands played on two outdoor stages, one at Wick Avenue and one at Phelps Street, and on a stage inside Barley's pub in the middle of the block.
The weather was perfect, the music was loud and the beer was cold, and that's all most people seemed to need. It looked, on the surface, like a bunch of people just getting together to have a good time.
For some, though, it meant a little more.
It was a place to make new friends! Kelly Sullivan, 18, and Chuck Krause, 19, both of the West Side, sat with Amethyst Robinson, 17, of Austintown on a curb around 5:30 p.m.
The three shared french fries and were going to talk about the groups they follow — Sullivan likes Kitchen Knife Conspiracy and The Zou — when two others who called themselves Leah Cancer, 19, and Lice Skumbag, 22, plopped themselves down and beamed huge, friendly smiles.
For the performing bands, the festival means something else — a chance for exposure and to make contacts.
"Exposure is very important. We are a poor band," said Away from Eden's bassist, Lou Liguore.
"Very poor," added the band's lead vocalist, Johnny Grahovac.
The festival also gives them a chance to meet other bands. "You find bands to open for you, you open for them," said Liguore. He and bandmates Lee Liguore, his brother, and Grahovac are from Poland.