Powwow regalia: a real deal
Red Hawk American Indian Pow Wow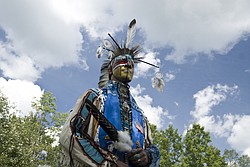 Gallery
A gathering for fans of Native American dance and regalia held in Coitsville, Ohio. Saturday, August 16, 2008.
By Bob Jackson
Participants said they'll travel far several times a year, in the name of pride and preservation.
COITSVILLE — His face painted bright red and white, his body adorned with feathers and beads, and with a traditional American Indian dance stick in one hand and a war club in the other, Brian Derst knew he looked like something right out of Hollywood.
He was one of many people at the Red Hawk American Indian Cultural Society's annual powwow, held Saturday at Willow Ranch on South Hubbard Road.
The powwow featured authentic American Indian dancing, singing and drumming, and displays of customs and arts and crafts. It continues today from 10 a.m. to 6 p.m.
"It's a celebration of our traditions and customs," said Derst, 40, who lives near Columbus. "And it's also educational because a lot of people think this lifestyle only exists in Hollywood."
Herman Pipe of Austintown is a member of the Assiniboine and Sioux tribes. He and his wife, Randee, moved here some six years ago from Montana. He said powwows such as the one held Saturday are important in keeping American Indians in touch with their heritage.
"By coming to these, my children are able to see and learn and experience things that they are missing by not being raised out West," he said. "We come to these because it's important."
Derst, a member of the Blackfoot and Northern Cheyenne nations, said he generally travels to 25 or 30 powwows each summer and fall all over Ohio, Indiana, Pennsylvania, Michigan and into Canada. Attendance this year at many of the powwows has been hurt, he said, by the rising cost of fuel.
"My wife and I, when we go to a powwow to dance, we do it on our own dime," he said. "But this is something that is in our hearts to so, so it's what we do."
His wife, Linda, is Cherokee but did not dance Saturday because health problems made it difficult for her to breathe in the heat.
Derst said everything worn and carried by participants is hand-made.
"You can't buy this in any store," he said.
His dance stick has the skeletal head of a snapping turtle on one end and a claw from the turtle on the other end. His war club, painted red, white and blue, is made from the jawbone of a buffalo.
"What we wear and carry is not a costume," he said. "It is celebration regalia, and it is all authentic."
Shane Norris of Newark, Ohio, is part of the Allegheny Lanape tribe. He goes to between 25 and 30 powwows a year but said this was his first year attending the local event. He came because his friend, Derst, persuaded him.
"It's pride," Norris, 58, said of why he travels so far, so often, to attend the American Indian gatherings. "It's your family and your friends. It's keeping old traditions alive."
Norris said the regalia worn by American Indians is made to be authentic and is not always comfortable, especially in hot weather.
"Some of the buckskin dresses worn by some of the women start out weighing about 65 pounds," he said.
"When you add beading and other decorations, it just makes them that much heavier."
Pipe, 40, said there is a small American Indian population in the Mahoning Valley when it comes to those who are actually recognized and accepted into a specific tribe or nation.
"A lot of people like to say they are Native American, but it takes more than just putting on a Cleveland Indians shirt and saying you're a part of [Chief] Wahoo's tribe," he said.
Each tribe creates its own membership requirements to determine whether an individual is eligible for membership. Those who are accepted are issued a card with an official seal, declaring their tribal affiliation.
Derst said the difference between a tribe and a nation is that "a tribe is more like a village, but the nation is all the people."