Valley residents give Obama warm welcome
Obama at Austintown Fitch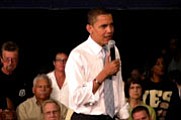 Video
Dem targets Ohio issues
AUSTINTOWN — Despite his poor performance in the Mahoning Valley during the March primary, Barack Obama was treated like a conquering hero upon his return.
An enthusiastic crowd of about 2,000 rose to their feet and cheered for the presumptive Democratic presidential nominee repeatedly during a town hall-style meeting Tuesday at Austintown Fitch High School. It was his first visit to the area since the March 4 Democratic primary.
"He is the epitome of hope and change," said Karla Randall of Canfield, the mother of three sons, after the event. "I love his policies and his passion. He's an example to my sons to not be afraid, be willing to take a risk and to do it with respect for God and people."
During a question-and-answer session, Truman Burgess of Warren, a retired Lordstown General Motors worker, praised the U.S. senator from Illinois for not being afraid to change his position on issues, particularly those dealing with energy.
"When change happens, you reassess," Burgess said.
Obama was pleased with the comment, repeating, "That's pretty good" several times.
After the speech, Burgess called Obama "an amazing individual. His vision embodies what this country needs."
During the March 4 primary in Ohio, U.S. Sen. Hillary Rodham Clinton of New York soundly defeated Obama. Some of her largest margins of victory came in Mahoning, Trumbull and Columbiana counties.
Polls in Ohio show the race for the presidency between Obama and U.S. Sen. John McCain, the presumptive Republican nominee, is a dead heat.
Political experts say Obama has to win over Clinton supporters, typically older women and blue-collar workers.
A 78-year-old retired teacher asked Obama, "Who's spreading that vicious rumor that people my age" aren't supporting him?
"It's a vicious rumor and it's not true; it's not true," Obama said.
The candidate said people get divided by age, religion and political party. Though there are some differing opinions, Obama said Americans "agree on 90 percent of the issues."
In an interview with WFMJ television after the event, Obama said, "If somebody voted for Sen. Clinton, then they're likely to agree with me on a whole bunch of stuff. We're already getting the vast majority of those votes. We've got to earn more."
Obama accused the McCain campaign of trying to "divide people to win an election."
Obama also said McCain is diverting attention from the important issues such as health care, the economy and energy.
"John McCain wants to talk about Paris Hilton and Britney Spears," Obama said in response to Republican claims that he's a "rock star" and not a world leader. "That's [McCain's] idea of a relevant campaign?"
Youngstown Mayor Jay Williams, an early Obama supporter, said the candidate is making "significant headway" in attracting Clinton supporters.
"There's still work that needs to be done to get the Hillary supporters," Williams said. "He's got to get those Hillary supporters to not only not vote for McCain, but get them to not sit on the sidelines" during the campaign.
Gov. Ted Strickland and U.S. Sen. Sherrod Brown, who hold the two highest Democratic offices in the state and spoke at Tuesday's event, said Obama's loss to Clinton doesn't mean he'll struggle in Ohio against McCain.
"It's not like Barack lost to nobody," Brown said. "Hillary had a very strong message [for the Valley] and was trusted here and had the governor working hard for her. She won the state more than he lost it."
The two also said unlike John Kerry, the failed 2004 Democratic presidential candidate, Obama is ready to effectively strike back against criticism.
"We are better prepared as a party, and this campaign is better prepared," Strickland said. "... Barack Obama does have the ability to stir up hope and enthusiasm and excitement."
Brown said McCain and his supporters are engaging in a "personal and nasty" campaign because that's the only way the Republicans have a chance of winning.
"Over time, the public is going to finally get sick of that, and Barack is going to win," he said.
In response, Paul Lindsay, a McCain spokesman, said there's nothing wrong with pointing out Obama's shortcomings.
"If Barack Obama wants to have a serious debate, he can start by offering some solutions to challenges facing Ohio families," he said.
During Tuesday's meeting, Obama responded to a question about unions — which have a powerful influence in the Mahoning Valley — by saying President Bush heads "the most anti-union administration in history."
Obama praised unions for establishing 40-hour work weeks and fighting for employee rights and fair pay.
Earlier in the day, Obama sent food to members of the United Steelworkers of America Local 3523 on strike since July 24 against Thomas Steel Strip in Warren.
Austintown was the second campaign stop this week for Obama as he touts his "New Energy for America" program.
The policy, he said, would eliminate the need for oil from the Middle East and Venezuela in 10 years.
The speech delivered Tuesday was essentially a condensed version of what he said Monday in Lansing, Mich., with a few changes. Obama included several direct lines from the Lansing speech when he spoke Tuesday in Austintown.
In Lansing, Obama said Michigan had the second-best potential for wind generation and production in the nation. The next day, he said Ohio had the second-highest potential for wind.
Obama criticized McCain's energy policy by saying, "We can choose four more years of the same failed policies that have gotten us where we are. Four years more of oil companies calling the shots while hard-working families are struggling."
Obama said his "new, clean energy future ... gets us where we need to be," and also criticized Bush's energy policy.
But Obama voted for Bush's energy bill in 2005 that included billions of dollars in subsidies for oil and gas production. McCain voted against that bill.
Obama "is opposed to admitting that he voted for the same corporate giveaways for big oil that he's campaigning against today," said Tucker Bounds, a McCain campaign spokesman.
skolnick@vindy.com