Obama's appearance gave voters little that was new
Obama at Austintown Fitch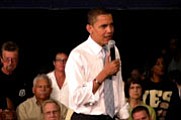 Video
Obama's appearance gave voters little that was new
Barack Obama's appearance in the Mahoning Valley Tuesday was only the latest indication of how important Ohio and this area will be in the November presidential election. If there was anything surprising, it was how little new ground Obama covered.
Obama was received enthusiastically at Austintown Fitch High School and was cheered heartily by a crowd that sent him out the door to cheers of "Yes we can."
But during his speech and a question and answer session that in which the questions were staggered between men and women, Obama said nothing that was likely to make a voter say wow.
The presumed Democratic nominee reviewed his energy plan, and pledged to give everyone $1,000 that would be extracted from "excess profits" of oil companies. That's sure to strike a responsive chord with people who drove to Fitch on $3.70 per gallon gas, but actually extracting that kind of money from oil companies would be only slightly more difficult than extracting sweet crude from oil shale.
Breaking the nation's addiction to foreign oil, expanding energy conservation and promoting the development of alternate sources of energy are like motherhood and apple pie — who's against those?
Ohio reference point
He put a little more meat on the bones of his energy plan, at least as far as Ohio goes, by making reference to something Gov. Ted Strickland has been talking about since the day he took office, developing and manufacturing high-technology sources of energy in Ohio.
His proposal to put 1 million plug-in hybrids that get 150 miles per gallon on the road within six years and giving buyers healthy tax credits for purchasing the vehicles was interesting. His pledge that all these cars would be made in the United States was fascinating, primarily because it suggested that the U.S. government would be providing subsidies that would violate international trade law. Not that a fight over the issue in the World Trade Organization would be a bad thing. We've long believed the United States should be more assertive in protecting its interests on the world trade stage.
The biggest question that came out of Obama's appearance here Tuesday is why he would have rejected out of hand a suggestion by his presumed opponent, Republican John McCain, that they appear weekly at joint town hall meetings.
How much more interesting it would have been if McCain had been at Fitch Tuesday instead of coming to Ohio tomorrow for his own town hall session in Lima.
The give and take between the candidates and the audience would have done far more to challenge the candidates and inform the voters than a succession of solo appearances.
Both McCain and Obama will be back in the Mahoning Valley — probably multiple times — before the Nov. 4. At least one of those appearances should put them both on the same stage in front of the same audience, fielding questions and challenging each other's answers.
Monologues may be easier for the candidates, but the voters will get more out of a hearty dialogue.