YOUNGSTOWN — It's late on a recent warm and sticky Sunday night. Jagged lighting cracks across the hot sky, but inside the Avalon Gardens, everything is cool and smooth with the Frank Castellano Quartet.
A small crowd of mostly friends and family are gathered near the back of this Belmont Avenue hang out, listening to the sounds of the not-so-distant past.
From Van Morrison to Stevie Wonder to Frank Sinatra to Foghat, the quartet fills the restaurant and bar with a variety of music, with a little bit of something for everyone.
"It's like spinning the dial on a radio and I've got my hand on it," lead vocalist and guitarist Frank Castellano, 55, says, a smile beginning to spread across his face.
Castellano's strong and unique voice provides beautifully powerful vocals to each song, infused with plenty of moving soul, as keyboardist Jim Gerlach and drummer Glenn Schaft add melody and rhythm to the mix. On this particular evening, bassist Teddy Pantelas fills in for quartet regular Wilbur Krebs.
It's hard to pigeonhole the precise musical style of this group, especially when it comes to its front man.
In some ways, these musicians takes a jazz approach to their music in that they "deconstruct songs and put them back together our way," Castellano explained, adding, "The songs take on a life of their own."
This last point is validated when local band Jang A Lang guitarist Dennis Drummond joins the four in an extended improvisational jam on the Hendrix classic "All Along the Watchtower," as fluid and wailing guitar breaks rock the number.
"We go really outside sometimes," Castellano said. "And then we come back and give people something to hold on to."
Music has always been a part of Castellano's life, he said. It was always in the Castellano home, but it was 1962 when young Frank got involved in the world of music, and he hasn't looked back since.
He was10, and his father gave him a used guitar that someone in the area was throwing away. Castellano began taking lessons until the fateful day two years later when The Beatles appeared on the Ed Sullivan Show for the first time.
"I started liking the music my parents hated," Castellano said with a laugh.
From the Beatles to the Rolling Stones, rock music from ''across the pond'' began to mesh with and replace the standard Big Band music of Frank Sinatra and Nat King Cole typically heard in the Castellanos' Warren household.
"Everyone was growing their hair long, joining rock bands, playing guitar," Castellano said.
Castellano was no exception and he along with several guys from another school formed The What Four. For their first job, the band knew 13 songs and repeated them several times throughout the gig. At the end of the night, they each had made a whopping two dollars apiece.
"We thought that was the end of the world — that was unbelievable," he said.
After graduating from John F. Kennedy High School in Warren, Castellano attended YSU for two years, taking only one music course during his college stint.
At the time, though, there was a lot of live music in Youngstown, he said.
He ended up getting a job with a show band and decided to join them on the road.
Over the next five years, he traveled all over the Midwest and East Coast playing with the band and, eventually, with several others.
The variety of music from jazz to rock 'n' roll that Castellano had listened to throughout his childhood began to come in handy.
"I had to learn all types of material, which suited me well," he said. "You gain an appreciation for all types of music when you have to learn it."
In the mid-'70s, he decided to stay in one place for a while and set up shop in Kent. Because it's a college town, there was music — in a variety of forms — everywhere.
Swing bands, country rock groups, blues bands and top 40 bands, Castellano did it all in Kent.
The new locale was also the start of Castellano's solo career as he began to hone his one-man act.
"I like doing the solo thing, it's a different style of playing," he said. "I like playing a role as well as being the focal point."
After seven years in Kent, he decided to go on the road again.
"Some friends of mine got a job with a show that came to town, a Las Vegas show," Castellano said. "They left while I hung around here, and about a year later they called me up and asked me if I wanted to join them in Houston."
He sold some stuff, took off and joined the group in Texas.
From Houston the group went to Vegas, and then Castellano continued on to the Lake Tahoe (Nevada-California) area and eventually ended up far from his Northeast Ohio roots, in San Francisco.
For three years Castellano played various venues around the California city, taking in the scene and becoming a part of the art and music culture.
"I did precious little recording," he said. "I was always performing live."
However the high price associated with West Coast living, along with the city being inundated with other guitar players, led Castellano to consider another move.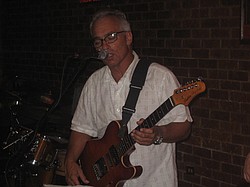 Photo
Frank Castellano performing with his quartet at the Avalon Gardens on Belmont Avenue.
After 15 years "out west" as he describes it, he returned to the Mahoning Valley and his family.
Settling down back in Warren, where he resides today, Castellano has cultivated his musical career and claimed his spot on the local music scene.
As a soloist, he does freelance work and occasionally works some big-band-type groups in the area, while continuing to add to his diverse repertoire.
"Right now I'm working on an Andrea Bocelli tune," he said. "You might hear that right after I play a blues tune. I like to shock people in that way. I really like to come out of a ballad and go into a Jimi Hendrix tune."
Live music has been Castellano's passion, but in 2003 he sat down with quartet bassist Wilbur Krebs and local saxophonist Tim Harker to record the album, "In a Mellow Tone".
"It was spontaneous," Castellano said. "It was time to do something, so I just woke up one day and did it. I guess I'll wake up and do it again someday."
The album — created in one afternoon — features takes on eight different songs, including a tune entitled "Cucina di Pasqualina," written by Castellano.
About eight years ago Castellano created the quartet that currently plays the Avalon Gardens. Formed from old friends (Castellano and Krebs met in Kent about 30 years ago) and relatively new acquaintances (drummer Glenn Schaft joined the gang two years ago), the quartet exists only at Avalon Gardens, performing usually twice a month.
All of the quartet members are musicians, but unlike his quartet peers, Castellano's day job has always been and continues to be his music.
"One thing I never did was have something else to fall back on," Castellano said about other career options. "I don't want to do anything else. There's nothing else that interested me to the point that I got good at it."
For Castellano, the future is not something to focus solely on, choosing rather to put his energy into his music each and every day.
"I just keep working towards the future," he said. "I keep working and playing music. For years and years all I did was travel, and I went from town to town and I liked that. But now, I'm content to be in one spot."
Back at the Avalon Gardens, the quartet's set comes to an end with the slow and melodic "When the River Meets the Sea" — a bittersweet and soulful song written by Paul Williams.
As the last notes fade out and contented smiles light the faces of audience members, Castellano's beautifully rough voice says it all:
"But this life will find a purpose/And in time we'll understand/When the river meets the sea/When the river meets the almighty sea".
For more on Castellano, check out his Web site by clicking <a href="http://www.frankcastellano.net">here.</a>