Daylight-saving time comes to an end
Tme Change - 2007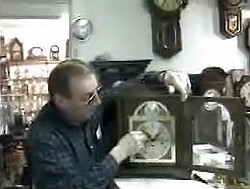 Video
The subject in this video is Ben Mischey, owner of Big Ben's Clock Shop in Austintown. He has been repairing clocks for decades and will have a lot of clocks to change this weekend.
Daylight-saving time has been shown to reduce
traffic fatalities, boost
public health and curb crime.
By ANGIE SCHMITT
VINDICATOR STAFF WRITER
The time has come to turn back the clocks. But this year that time has come one week later than in the past.
Daylight-saving time has been extended by one month, thanks to the Energy Policy Act of 2005, which took effect this year. Under the promise of energy conservation, Americans enjoyed sunnier evenings for three additional weeks this spring and one this fall. That extended period will expire Sunday at 2 a.m.
The government is still studying the effects of this year's extension, said David Prerau, author of "Seize the Daylight: The Curious and Contentious Story of Daylight-Saving" and a consultant to the co-sponsors of the Energy Policy Act. The energy savings picture will not come into focus for a few months, he said.
Daylight-saving is based on the theory that an extra daylight hour in the evening decreases the need for electrical lighting and encourages people to venture outdoors, away from household appliances.
Overall, experts estimate that daylight-saving time reduces energy use by about 1 percent. Though the figure represents only a small proportion of total energy usage, the savings are nonetheless significant, said Prerau. A daylight-saving time extension, during 1986, was shown to save about 300,000 barrels of oil annually.
The effect of the change has not been apparent to local energy providers, said FirstEnergy spokesman Mark Durbin. Savings, if any, have been negligible, Durbin said.
"People really don't seem to change their usage depending on whether daylight-saving time is earlier or later," said Durbin.
Individual choices, such as the number of electric appliances owned, have a far greater effect on energy consumption, he said.
According to Prerau however, energy savings are just one the many benefits of daylight-saving time. Transferring an hour of daylight into the evening has been shown to reduce traffic fatalities, boost public health even reduce crime rates, he said. Under daylight-evening conditions, senior citizens who don't like to go out after dark have an extra hour for shopping and socializing, potential criminals are inhibited and traffic accidents are avoided, said Prerau.
"The impetus was energy but the reasons were multiple," he said. "It's a lifestyle benefit for most people. They prefer to have an extra hour in the evening."
If the new timetable does not produce substantial energy savings or proves unpopular, Congress has reserved the right to return to the old time line, Prerau said.
aschmitt@vindy.com