Oakland's Stage proves versatile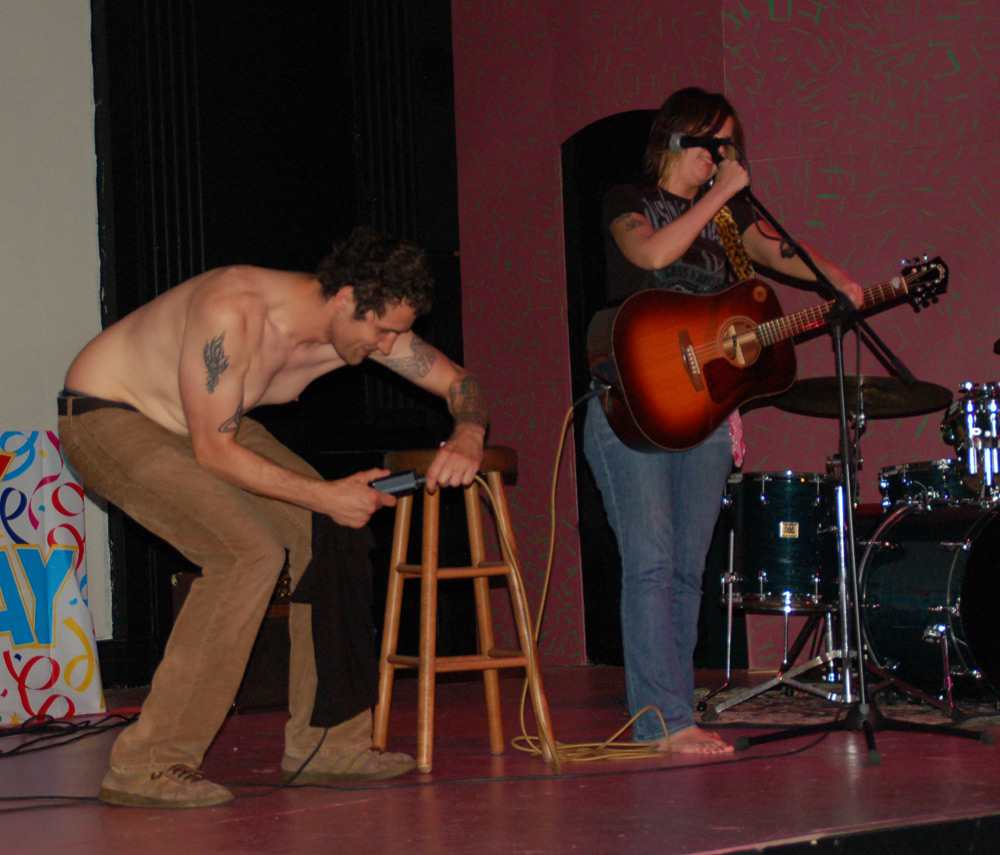 ---
The Stage at the Oakland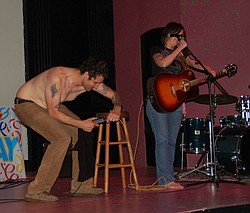 Gallery
YOUNGSTOWN – The Oakland Center for the Arts has already proved its importance to up-and-coming entertainment in the Valley.
Saturday, it proved how much fun that can be.
The night started off on a high point as a birthday celebration for local writer Christopher Barzak.
He was also the first performer at the all-genres open mic night Saturday. Barzak began the evening (following a child's birthday serenade) by reading the prologue of his novel, "One for Sorrow.
"Sometimes you regret not asking simple questions," Barzak read.
"One for Sorrow" will be released at local bookstores Aug. 28.
Not to be outdone was local country singer BJ O'Malley.
"I write heartbreaking drinking songs," she told the crowd.
O'Malley sang barefoot with back arching like a cat on her tiptoes to belt out painfully real emotional notes.
"The only boy I ever loved has gone away," she sang.
O'Malley performed five songs and was pressed by the audience to continue. After the show, she sold a myriad of copies of her new album, "Sweet Baby Freaker."
"That's me. I'm the freaker. If you know me, you know that. That I'm a little weird," she said.
Other acts included Carrett and Andre on acoustic guitar and upright bass playing songs about "characters" in their lives with a local flair. They even got a mention of Petra not having Colt 45 in a song.
Local percussionist and drummer for The Zou, Adam Mamula, followed with a captivating xylophone performance. The set included a narrated history of the xylophone's history in music and excerpts of several songs.
220 W. Boardman St., Youngstown
Just as talented, but by default significantly hotter, were two bellydancers. The girls performed "Arabian Spices." Coordinator and hostess Brooke Slanina explained their dance would probably be a precursor to their performance at the next Stage, closer to their opening of their own bellydance studio and school in the area in September.
The Stage also gave one nervous comedian, Rob O'Hara, an outlet to try out new material. While appearing uncomfortable onstage, O'Hara's work was undoubtedly hilarious. At one point, he proposed writing a congressman to ask to do away with existing DUI laws to incorporate a drunk-driving lane.
Closing the night was local rock group Modern Life. Singer Rocco Sait sang artistic and soulful vocals over great rhythms by Bethany Matthews, bass, and Alan Williams, drums. Sean Haughey added to the group's dynamic on keys.
While a lack of monitors obviously affected the group's tonality, musically, they were a great act the audience enjoyed.
So, here's the recap: novelist, old-school country singer, comedic light rock, xylophone, bellydancing, comedian and rock. All within two-and-a-half hours. All downtown.
The Stage is Youngstown/fun.