Governor fares well in poll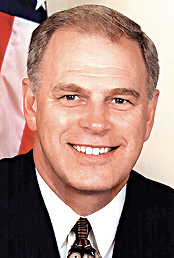 Photo
Ohio Governor Ted Strickland (D-Lisbon)
Strickland's approval rating rose to 61 percent.
By MARC KOVAC
VINDICATOR CORRESPONDENT
COLUMBUS — A majority of Ohioans give Gov. Ted Strickland high marks through his first six months in office, though many also believe the state's economy will remain subpar for the next year.
That's according to the latest poll results released Wednesday by Quinnipiac University Polling Institute.
"There's lots of good news here for Gov. Ted Strickland, but Ohio voters are very worried about the economy," according to Peter A. Brown, assistant director. "Many seem to believe it is beyond their control and are not at all receptive to the notion that free trade policies in the long run are good for them or America."
The institute surveyed 1,447 Ohio voters during the past week, asking questions about Ohio's gubernatorial leadership, congressional representation and the state's economy.
Strickland's approval rating rose to 61 percent, with 15 percent disapproving of how he is handling his job as governor and 25 percent not answering.
That compares with 54 percent from a poll of 939 Ohio voters conducted by the institute in early May, with 16 percent disapproving and 30 percent not answering.
Other ratings
The Legislature didn't fare as well, with 39 percent of those surveyed approving, 35 percent disapproving and 25 percent not answering. In early May, 37 percent of voters polled approved of lawmakers' actions, 37 percent disapproved and 25 percent didn't answer.
Those polled approved of the way U.S. Sen. Sherrod Brown is handling his job (44 percent, with 19 percent disapproving and 36 percent not answering).
U.S. Sen. George Voinovich received a comparable approval rating (45 percent, with 34 percent disapproving).
But many Ohioans are dissatisfied with the direction of the state. According to the poll, 50 percent said they were either very satisfied (4 percent) or somewhat satisfied (46 percent) with "the way things are going in Ohio today," while 49 percent were either somewhat dissatisfied (30 percent) or very dissatisfied (19 percent).
Voters ranked economic issues, particularly unemployment and job losses, among the most important problems facing the state.
And, 66 percent said the state's economy was not so good or poor. Only 21 percent thought the economy situation would improve (with 19 percent believing it would get worse and 57 percent expecting no changes).
mkovac@dixcom.com