But Strickland, others oppose early release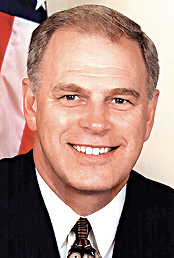 Photo
Ohio Governor Ted Strickland (D-Lisbon)
By DAVID SKOLNICK
VINDICATOR POLITICS WRITER
YOUNGSTOWN — Robert F. Hagan isn't the only state legislator from the Mahoning Valley who wants to see ex-U.S. Rep. James A. Traficant Jr. get out of jail early.
State Rep. Ronald V. Gerberry of Austintown, D-59th, said the nearly five years Traficant has spent in federal prison is "more than adequate" for the crimes he committed.
"Quite frankly, Jim Traficant paid his debt to society," Gerberry said. "... It's time to let him out."
A federal jury found Traficant guilty in 2002 of 10 felony charges including racketeering, bribery, obstruction of justice and tax evasion. He was sentenced to eight years in prison July 30, 2002, but his projected release is Sept. 2, 2009.
Hagan, an Ohio House member from Youngstown, is asking President Bush to commute the time left on Traficant's sentence in light of Bush's commutation of I. Lewis "Scooter" Libby's 30-month prison sentence for perjury and obstruction of justice.
A federal jury found Libby, a former top aide to Vice President Dick Cheney, guilty of lying to FBI agents and a grand jury investigating a 2003 White House leak to the media of the name of a woman who was working as a CIA operative.
He served his time
Hagan said Bush should "release all of those whose crimes had far less impact on the public good than Libby's" and that includes Traficant. Hagan may also ask the state Legislature to pass a resolution seeking commutation for Traficant.
"Our congressman served his time," said Gerberry, who added that he doubted Bush would let Traficant out of jail early.
Mahoning County Commissioner David Ludt of Poland, a longtime friend and neighbor of Traficant, also supports Hagan's proposal to release the former congressman.
"The things he's done aren't any worse than what a lot of people have done and I think he should be pardoned," Ludt said.
A jury convicted Traficant on charges that he had congressional aides perform chores at his farm in Greenford and on a houseboat he used to own in Washington, D.C., on taxpayers' time as well as have a few of them kick back portions of their salaries to him. The jury also convicted Traficant for accepting money, gifts and favors from local businessmen in return for his help with local, state and federal agencies.
Other politicians don't agree with Hagan.
"The commutation of Scooter Libby doesn't make Jim Traficant any less guilty," said state Sen. John Boccieri of New Middletown, D-33rd.
The Constitution gives the President the power to issue a commutation, which reduces a person's criminal penalty without an official act of forgiveness. A pardon is an official act of forgiveness by the president.
"I don't think [Traficant] warrants a commutation by the president or a hearing by the Legislature to approve a resolution," Boccieri said.
When Hagan first mentioned this, Boccieri thought the House member was kidding, but now realizes it's not a joke.
An early release won't receive support from Gov. Ted Strickland, who served in the U.S. House with Traficant, said Keith Dailey, the governor's spokesman.
"The governor doesn't think Traficant should be released early," Dailey said. "He committed crimes and he should serve his full sentence."
Bush getting involved
State Sen. Capri Cafaro of Liberty, D-32nd, said Bush should neither intervene on behalf of Traficant nor should have done so with Libby.
Bush "has the right to do it, but should he have done it? No," Cafaro said of Libby. "The decisions of a judge and jury should stand. We should leave the judicial system in the hands of judges and juries."
Cafaro's father pleaded guilty to improperly giving money to Traficant to help a company he owned get a federal contract. The state senator, who served as the head of that company at one time, testified as a government witness against Richard Detore, indicted as a Traficant co-conspirator but found innocent on all charges he faced.
While Cafaro doesn't agree that Traficant should get early release, she sees the point Hagan is trying to make about Bush having a double standard.
"He has one for his friends and one for everyone else," she said.
Just because Bush has a "double standard" it "doesn't make it right" to release others who've committed crimes, Cafaro said.
skolnick@vindy.com