U.S. Rep. Ryan tapped for congressional subcommittees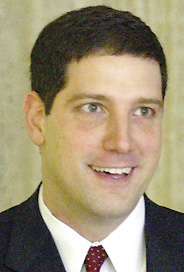 Photo
U.S. Rep. Tim Ryan of Niles
U.S. Rep. Tim Ryan of Niles, D-17th, will serve on two subcommittees of the House Appropriations Committee.
The House Democratic Caucus on Thursday appointed Ryan to the labor, health and human services, education and related agencies subcommittee, and the energy and water development and related agencies subcommittees.
"These subcommittees have jurisdiction over many important federal departments and agencies that directly impact our congressional district, region and Ohio," Ryan said.
The 17th District includes portions of Mahoning and Trumbull counties.
The first subcommittee has jurisdiction over departments including education, labor, health and human services, and the Social Security Administration.
The latter subcommittee oversees the energy department, the Appalachian Regional Commission and the Nuclear Regulatory Commission.
Ryan, sworn in Thursday to his third two-year term in Congress, was selected last month to serve on the prestigious House Appropriations Committee that oversees and votes on about $873 billion in spending bills.
More like this from vindy.com