Brainfood from the Heartland
Email | Blog | Recommended Links
The Louie b. Free Radio Show
Broadcasting from The Vindicator newsroom, weekdays from 8am to 12pm. Join the conversation by calling: 330-333-4454. Email Louie at louiefree@hotmail.com. Click here to stream the show from your iTunes player.
Legal Stuff: The views and opinions expressed by the host, guests and callers of the Louie Free Program are not necessarily those of The Vindicator or Vindy.com. The Vindicator is not party to nor liable for resolution of issues between the show host and or listeners.
Scheduled Guests for October 18, 2018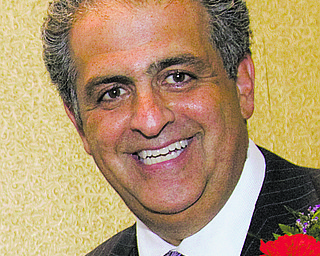 David John Betras, Biography Attorney David Betras is the Senior Partner at Betras, Maruca, Kopp & Harshman, LLC, and directs the firm's non-litigation activities. His primary responsibility includes resolving clients' personal injury and medical malpractice claims prior to commencing a lawsuit. David also practices criminal defense on both the state and federal levels. David graduated Cum Laude from Youngstown State University with a Bachelor of Science Degree in Applied Science in 1982. He attended law school at Capital University, where he was elected to the Order of the Curia. He graduated Cum Laude and earned a Juris Doctor degree in 1985. While in law school, David won American Jurisprudence Awards for his demonstrated excellence in the subjects of Torts and Wills and Estates. David began his legal career as an attorney with Betras & Betras in 1985. As such, David was actively involved in case management, research and the drafting of opinions and orders. In 1992, David became a founding member in the law firm of Betras & Dann. He became a founding partner in Betras, Maruca & Kopp, LLC. in 1998. David's reputation and ability were acknowledged in October of 1998 when he was appointed to serve as Special Prosecutor of the Mahoning County Fraud Probe. David's chair of the Mahoning County Democratic Party
Rev. Keiko Hoshino
Glenn Holmes, a lifelong resident of the Mahoning Valley and the 63rd District, begins his first term in the Ohio House of Representatives after serving as Mayor of McDonald, Ohio for nine years and as McDonald Village councilman prior. During his leadership as mayor, Holmes was able to help save the Village of McDonald millions in healthcare costs while providing workers with quality care, resulting in a $2 million budget surplus. The village was also able to maintain investments in essential services while enhancing the community with things like a new community center and summer splash park for local children. Holmes is a graduate of Girard High and earned his Bachelor of Arts in Sociology from Mount Union University. A devoted husband and proud father of three adult children and grandfather of four, Holmes believes in working across the aisle in a bipartisan spirit of cooperation to build new relationships and get things done. With a strong commitment to public service, Holmes say all things are possible through God, community and country.
Show Archives
View past show schedules.

Recommended Links